Holding on to what we've got
Reporter: Dawn Marsden, Alex Carey, Karen Doherty
Date published: 08 May 2015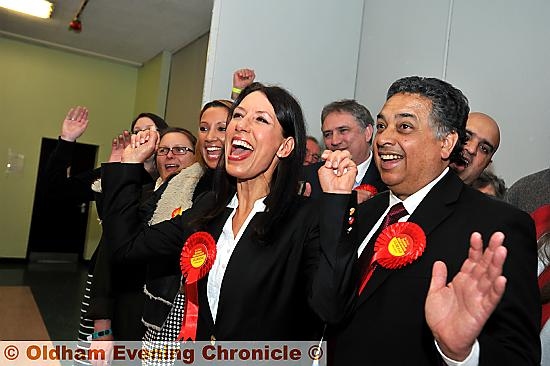 Photo: Darren Robinson and Paul Sterritt
THAT winning feeling . . . Debbie Abrahams celebrates holding the Oldham East and Saddleworth seat for Labour.
DEBBIE Abrahams held her Oldham East and Saddleworth seat with 17,529 votes - increasing her majority from 3,558 in 2011 to 6,002.

Despite a disastrous night nationally for Labour, Mrs Abrahams — who struggled to hold back the tears when her win was announced — said leader Ed Miliband had her full support.

She added: "Labour have done fantastically well in Oldham but the same can't be said for the rest of the country. We always knew it would be a hard fight and we all worked very hard. We need to have a long, hard think about what this means for British politics.

"Ed Miliband is taking us in the right direction and he still has my full backing. It is his decision what step he takes next but I will always support him.

"The turnout in this constituency of 62.29 per cent is fantastic and we need to make sure we are engaging with people 52 weeks of the year to keep this momentum going. It's no good just speaking to people in the weeks leading up to an election, you have to be there for them all the time and that is what I try to do. I vow to continue to do that going forward."

Mrs Abrahams said the rise in votes for UKIP in Oldham was a sign of people disengaging in politics: "The Labour party need to think about different ways to engage with people to show that they are there for them and that they support them.

"I want people to think of me as an accountable public servant to represent and provide help and support to everyone who needs me. I will work tirelessly for those people, and for those who didn't vote for me, to make Oldham and Britain a better place."

UKIP's Peter Klonowski, who came third with 8,557 votes, said he was disappointed not to come second but was pleased with the gains made.

He added: "We wanted to secure a lot of second places to create a base to build on for 2020 and we need to work harder to win voters over. We are a new party and elections are new to us, so we know there are things to work on. We are learning all the time and we know there are things we could have done better."

The Liberal Democrats' Richard Marbrow came fourth with 5,718 votes: "At the moment my thoughts are focused around the country," he said.

"A number of my colleagues and my friends have lost their jobs tonight and they didn't really deserve that. Last time round the Lib-Dems did something which was in the interest of the nation."

Green candidate Miranda Meadowcroft polled 1,152 votes. She said: "We were hoping for at least 5 per cent so obviously it is a disappointment.