Oldham bid to stop loan sharks
Reporter: Dawn Marsden
Date published: 05 June 2015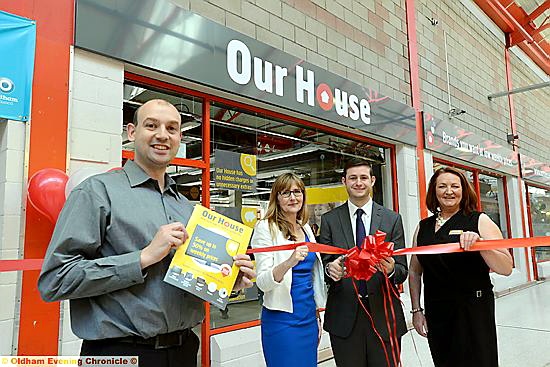 CUTTING the ribbon: (l-r) Gary Thomas (store manager), Carolyn Wilkins (Oldham Council chief executive), council leader Jim McMahon and retail operations director Sue Strother
NO late fees, no hidden charges, no unnecessary costs: Oldhamers on low incomes or with a poor credit history can now take advantage of Our House.

The country's first high street weekly payment store run by a social business is now open in Tommyfield market hall.

Our House, which sells furniture, appliances and branded electrical items at low cost is run by not-for-profit business the FRC Group in partnership with Oldham Council.

Weekly prices are up to 50 per cent cheaper than other high street rent-to-own stores, and there are no late fees.

Managing director Donald Stark said: "At Our House we want our customers to spend less money and we are here to help them save. Our House has no expensive service package you must take out, and insurance is optional.

"Because we are a social business with no shareholders, and a charity, our aim is to offer the best value for our customers, not to make profits for ourselves."

The council is supporting Our House in a bid to stop residents turning to loansharks and pay-day loan companies.

Council leader Jim McMahon said: "We've found that many people in Oldham have issues getting credit or paying off debt and are forced to use exploitative weekly payment stores or even loan sharks to purchase necessities. This new store will give a fair alternative and genuine value for money."

Oldham Council won't make money from the shop, created from three shop units by the couucil's construction partner Willmott Dixon. The store is open Monday-Saturday.