Adam's starring role
Date published: 18 November 2015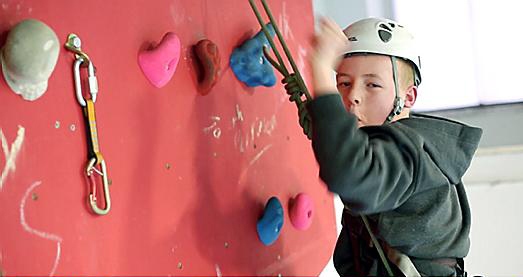 Stills from "My Life" documentary about Adam McQuillan.
BRAVE 12-year-old Adam McQuillan is about to become a TV celebrity after a CBBC documentary crew filmed his recovery and rehabilitation following a road accident.

Adam's life was changed dramatically after he suffered a serious brain injury and multiple fractures when he was struck by a car in Abbeyhills Road in September, 2011, aged eight.

He spent 10 weeks in a coma and eight months in hospital before he astounded doctors with his recovery and returned to school.

His amazing journey will now be featured as part of CBBC's "My Life" documentary series, which is due to air on Tuesday, November 24, at 5pm.

Adam's mum, Anita Claxton, from Greenfield, said: "We are so proud of Adam and how far he has come.

"The documentary is a real tear-jerker and shows just how hard Adam has worked on his rehabilitation.

"He is able to live a normal life now and it is so exciting that he will be on TV. Adam is so pleased and loved being filmed.

"He keeps talking about the documentary and how he will be famous."

The documentary focuses on Adam and other children who suffered injuries following road accidents.

Adam, a pupil at New Bridge Special School, was left with limited movement and speech after the accident but has since made a phenomenal recovery which means he can now talk and even take part in a variety of activities, including rock climbing.

The documentary also features Adam crossing the finish line at the BUPA Junior Walk in Manchester earlier this year after completing the two-mile walk for charity.

Anita continued: "He was struggling to finish but he was determined to make it. We were all so proud of him and its emotional to see it again, especially when we weren't sure if he would walk again at one point."

The documentary also features a campaign for better road safety during winter.