Death of hospice art champion
Reporter: Gillian Potts
Date published: 08 December 2015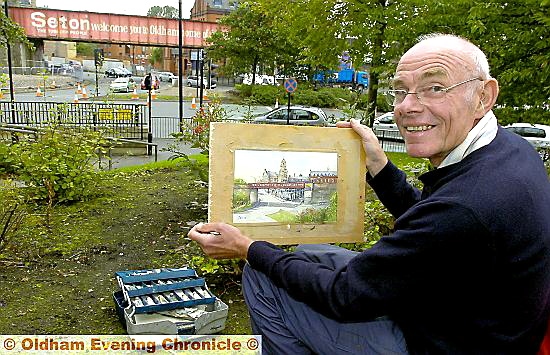 Artist David Ford painted a watercolour of Mumps bridge, days before its removal
SADDLEWORTH'S art community has been devastated by the sudden death of popular artist and charity supporter David Ford.

Friends and fellow artists have paid tribute to David (72), from Dobcross, who is understood to have died in hospital on Sunday following a stroke.

As well as being admired for his intricate watercolours of the landscapes he loved, he was also a staunch supporter of Dr Kershaw's Hospice and each year produced paintings for the charity's sell-out calendar.

The hospice's Lisa Pearson said his death came as a terrible shock to Dr Kershaw's: "The news of David Ford's passing has hit us hard," she said.

"He was a huge supporter of this amazing place for a very long time and had become part of the fabric of the hospice.

"His beautiful scenes in our hospice calendar have delighted thousands of people every year, and we very often get orders from as far as Canada and Australia as Oldham ex-pats fondly remember the area through his images.

"David would pop in to the hospice regularly at this time of year — in fact he was here only last Thursday — collecting calendars to autograph and sell to family and friends. He has raised thousands of pounds over the years. Our thoughts are with his widow, Elaine and David's family and friends."

Dr Kershaw's chairman and close family friend Vernon Cressey said: "His family is understandably devastated. He was a great friend to the hospice for many, many years. It's a tragic loss for his family and us all."

David produced over 3,000 paintings of local sights and landscapes of Oldham and Saddleworth. He captured the final hours of Oldham's iconic Mumps bridge in 2010, setting up his easel on the approach from Lees.

"David was an on-the-spot painter," said John, from Delph. "He would set up and paint his subject in all weathers. He was a very popular artist and his paintings adorn the homes of many in Saddleworth. I've often gazed through windows and spotted a David Ford on the wall."

Saddleworth artist Di Terry added: "I always admired the way he worked. He was often out and about in Dobcross, his village, with his easel. He didn't rely on photographs; his work was detailed and accurate as he came from a technical drawing background.

"I always admired the way David wasn't a part of a group, but painted with stamina and developed many admirers and patrons around Saddleworth."

In a fitting tribute to David, Dr Kershaw's are already planning a special edition calendar for 2017 featuring a range of his paintings from over the years.