Campaign helps to save young lives
Date published: 16 December 2015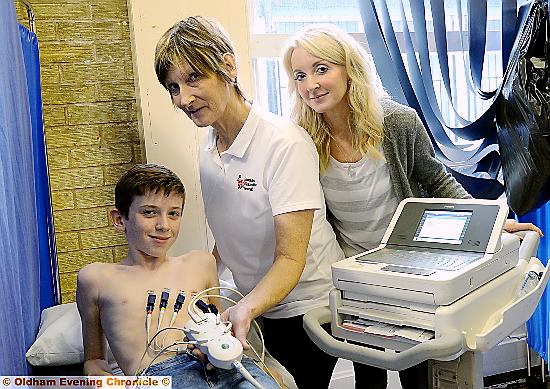 Debbie Dubois - mother of the late Harry - watches as her nephew Joseph Gidley is screened by nurse Sheila Pitt.
Heart screening sessions funded by money raised in the name of an Oldham teenager has potentially saved the lives of eight young people.

At a recent Cardiac Risk in the Young event at St Luke's Primary School, Chadderton, 200 14 to 35-year-olds were tested for heart defects - and eight people with irregular readings and potential abnormalities have now been referred for further testing.

The screening was made possible by the family of Harry Dubois, who was 17 when an undiagnosed heart condition cut his life tragically short.

In memory of Harry, who grew up in Thornham before moving to Altrincham, his mum Debbie, dad Mario and sister Emily launched "1,000 Hearts for Harry" to raise money and awareness and to provide heart screening for 1,000 14 to 35-year-olds a year.

Debbie says the Chadderton session confirmed how vital the campaign is.

"St Luke's Primary School has been a fantastic supporter of the campaign," said Debbie. "It was lovely to see some of Harry's old school friends from when we lived in the area take up the offer.

"The tests are painless, non-invasive and take only a few minutes to perform, but they are not freely available on the NHS unless you've had a young cardiac death in the family.

"The eight referred for testing had no symptoms and no previous warning signs. At least 12 young people die suddenly each week of previously undetected heart problems."

Donate at www.justgiving.com/1000heartsforharry.