Break the rules ...rule the world
Reporter: Iram Ramzan
Date published: 01 February 2016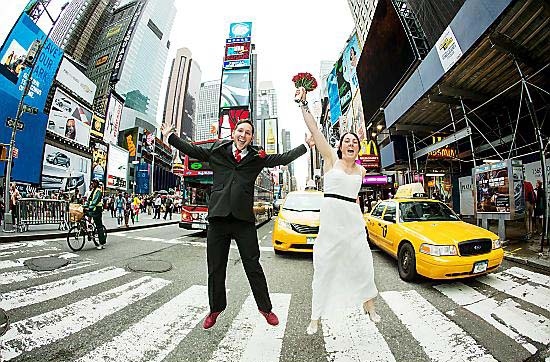 GLOBE-TROTTERS . . . Nic and Paul Short after their wedding in New York
MANY people have have wanted to ditch their nine-to-five grind in favour of a jet-set lifestyle.

But from April, Nic Hilditch-Short and Paul Short from Royton will be doing precisely that. The couple, originally from Littleborough, started travelling just over a year ago and blogged about their adventures; they even got married in New York in 2013 and honeymooned in Tokyo.

Now, after visiting nearly 30 countries, they have decided to travel the world full-time.

Nic (27), who recently graduated from Manchester Metropolitan University with a masters in design and art direction, and Paul (29), who works in a laboratory in Rochdale, have rented out their home and are living with their parents before they embark on their journey.

"We weren't happy," explained Nic, who is hoping to teach English abroad.

"We take for granted the idea that you go to school, then uni, you get a nine-to-five job, a house, get married, kids and then retirement," said Nic. "If people are happy with that, we're not saying you shouldn't: I always felt that wasn't for me.

"Paul's dad and step mum are going to do some travelling themselves — they're retiring early. They were inspired by us."

Nic and Paul's first stop is Milan. From there they hope to go on to the Balkans and make their way to China.

Their blog can be found at www.theroamingrenegades .com.