Move to calm fears over thieving blitz
Reporter: Ken Bennett
Date published: 15 February 2016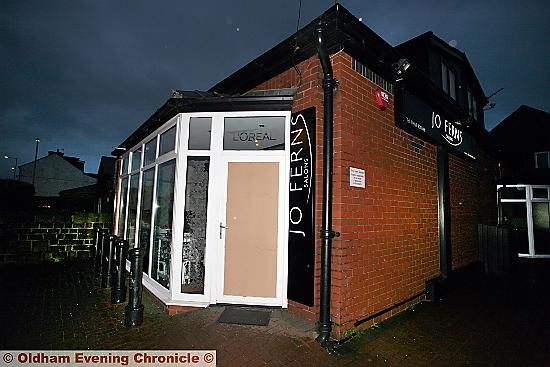 DAMAGE at Jo Ferns' salon, Lydgate
OLDHAM'S top crimebuster is to meet worried business owners and residents tonight in a bid to calm concerns in a community hit by a theft blitz.

Chief Supt Caroline Ball of Oldham, Tameside and Stockport divisions, will speak at a meeting at the White Hart, Lydgate hosted by Jo Ferns - a local hair salon owner whose premises were attacked a week ago.

Later this month PCSOs will attend a residents meeting at Uppermill civic hall with Debbie Abrahams, MP for Oldham East and Saddleworth, who in the House of Commons last week highlighted the spate of burglaries in Uppermill and Greenfield and linked them to GMP's reduction of approximately 2,000 front line posts.

During her intervention in the Police Grant Settlement debate, she said: "We cannot possibly say there is no link between such events and the front-line cuts to staff in the Greater Manchester Police."

And she directly asked Government Minister, Mike Penning MP: "What can the Minister say to my many constituents who have contacted me to say they are very concerned about their safety? Surely this must be a priority for him."

Currently, Saddleworth only has two police officers and a handful of PCSOs.

At the weekend the MP visited Saddleworth businesses affected by the attacks and said she will continue to raise their concerns with GMP.



Uppermill subpostmaster Graham Sheldon, an Oldham Council and Saddleworth parish councillor, has suggested a central monitoring of CCTV which could link businesses, public places and private addresses.

He said:" A central system would be less costly to run, and cameras installed to produce the picture quality to the standard of police requirements.

"The cost to local business is far greater than just the cash sums taken and causes much distress, upset, and inconvenience."

Speaking ahead of tonight's meeting, which starts at 6pm hairdresser Jo Ferns said she was "overwhelmed" by the public response.

"Police have told me there have been 40 commercial break-ins in Oldham town centre in the last few months," she added.