Welfare reforms will cost adults £490 a year
Date published: 11 March 2016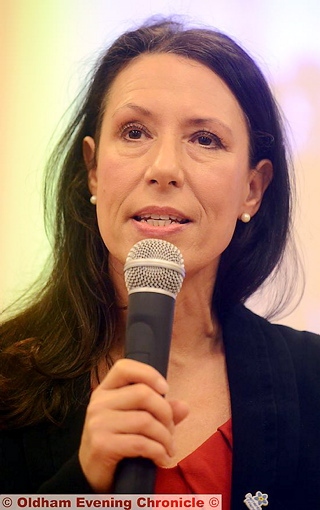 Debbie Abrahams - taking a lead against the reforms
OLDHAM will be one of the hardest hit areas in the country when welfare reforms take effect next month.

Research by Sheffield Hallam University shows the average loss per working age adult in Oldham by 2020/21 will be a massive £490 a year — putting it seventh worse after worst-affected Blackburn with Darwen and Blackpool on £560. In contrast, the least affected district in 378th place, is Hart in Hampshire at £130, followed by South Buckinghamshire and Richmond on Thames at £140.

Much of southern England outside London escaped relatively lightly. All 10 areas losing least are in the South-East.

Report author Prof Steve Fothergill said: "Many individuals and households in more prosperous parts of the country will barely notice that welfare reform is under way. For others, however, the financial consequences will be only too obvious."

Rachael Orr, Oxfam head of UK programmes, said: "This report confirms that social security cuts will further entrench deep-seated regional inequalities. They suck money out of already struggling local economies and are likely to push families on low incomes into hardship."

A Government spokesman said: "The Government is determined to deliver a new settlement for the British people, one that will create a higher wage, lower tax and lower welfare economy.

"Our welfare reforms ensure that the system is fair both for those who need it and the taxpayers who fund it. But there's more to be done, which is why we are introducing a new national living wage which will boost the pay of up to six million people.

"Together with the further increases to the personal allowance this year people will keep more of the money they earn by paying less income tax."

Debbie Abrahams, MP for Oldham East and Saddleworth, has been leading Labour's opposition to the Government's welfare reforms.

She said: "This study reiterates what we've been saying all along; that the swingeing cuts to our social security system and tax changes will not be offset by the Government waving a magic wand and introducing their so-called living wage or an increase in the personal tax allowance.

"The fact that Oldham will be the seventh worst-affected borough nationwide shows what little regard the Government has for working people on low incomes, or who are sick and disabled, in less prosperous areas of the country.