David bows out with a party
Reporter: Paul Genty
Date published: 21 March 2016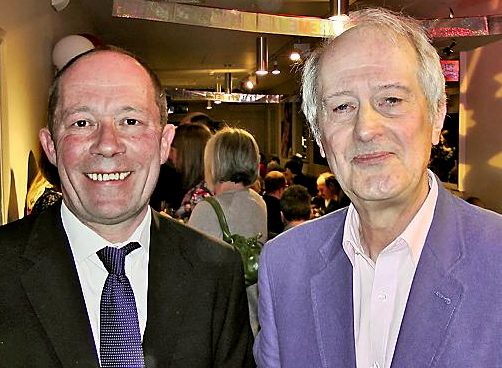 FAREWELL party . . . retiring Oldham Coliseum house manager David Rustidge (right) with artistic director Kevin Shaw
OLDHAM Coliseum house manager David Rustidge bade farewell to friends and colleagues yesterday — but he won't be going very far from theatres in retirement.

The theatre and his colleagues gave him money to take theatre trips, presented him with a "golden ticket" for free admission to the Coliseum any time, and donated a seat-back plaque in his name.

Meanwhile, volunteer staff presented him with a specially-engraved goblet to mark his 34 years at the Coliseum, more theatre vouchers... and a pork pie.

Volunteer theatre staff member Julie Charlesworth told a farewell party at the theatre that David often left the building at night saying he was going home to a pork pie!

David started working at the Coliseum in 1982, after being a volunteer for some time, and is the theatre's longest-serving member of staff.

Artistic director Kevin Shaw told the gathering David had welcomed 1.3 million people to pantomimes alone during his 34 years there, and around four million people in all.

Though David is officially retiring he will continue to co-host the free Coliseum shows to announce each new season and will present talks about the Coliseum.

"I first saw 'The Magistrate' here," said David. "That hooked me; I wanted to come again and again, and that's what I did.

"I've thoroughly enjoyed the job. Today is the first day of spring and I'm conscious of the fact that this is out with the old and in with the new. I hope the theatre continues to prosper as it should do as we move towards a new building."

The theatre's new house manager will be Heather Shaw — no relation to Kevin Shaw — who will get the benefit of David's experience and encyclopaedic knowledge of the theatre's history before Davidleaves at the end of the month.