Campaigners fight to close loophole for sex offenders
Reporter: KEN BENNETT
Date published: 19 April 2016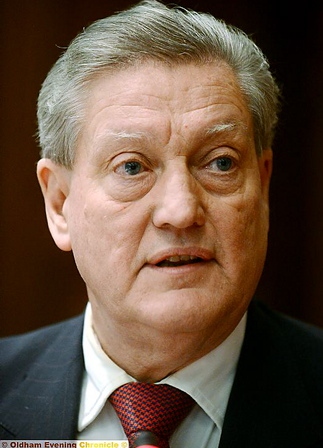 Mike Buckley
A DELEGATION of Saddleworth protesters are to meet a top Government minister in a bid to prevent child sex offenders serving as a councillors.

Debbie Abrahams, MP for Oldham East and Saddleworth, has secured the meeting next month in London with Marcus Jones, Minister for Local Government to discuss the legislative proposals.

It follows the outcry at Councillor Mike Buckley's refusal to resign from Saddleworth Parish Council after being found guilty of downloading indecent images of naked boys on his computer.

The MP has already submitted two written questions in Parliament to the Department for Communities and Local Government about the issue.

Now she has invited independent OMBC councillor Nicola Kirkham, who also serves on Saddleworth Parish council, independent parish councillor Robert Knotts and campaigner Holly Wood to be part of a delegation at the meeting on May 4.

They want sex offenders banned from serving as a local authority or parish councillors.

Mrs Abrahams said: "In response to my questions, the Minister for Local Government has hinted government intends to launch a consultation into proposals to bring the legislative rules into line with modern sentencing guidelines later this year.

"But I will be asking for a firm commitment from Government and for them to speed up their response to the troubling situation Saddleworth Parish Council finds itself in.

"The fact Councillor Buckley hasn't voluntarily resigned, and has defied calls to resign, is regrettable.

"But it has highlighted a loophole in the law which defies common sense and could occur again elsewhere in the country.

"Government must act quickly and decisively to address the issue," she urged.

Holly Wood, (32), an airline executive from Dobcross, said: "My hope from this meeting is Debbie Abrahams will be able to instil some much needed common sense on this matter.

"This could happen to any local authority in the country and for this loop hole to be in place so currently Councillor Mike Buckley can remain in his position, is frankly startling.

"I want to voice my concerns not only as a resident of Saddleworth, but on behalf of survivors of abuse, who have no voice or platform in this country.

"For the hundreds of survivors of abuse residing in Saddleworth and Oldham as a whole, seeing Councillor Buckley remain in his position resurrects memories of their own torturous thoughts that live deep inside them each day and are brought to the forefront of their minds, knowing that his man, wants to speak on their behalf.

"Councillor Buckley has so far even refused to apologise for his crime," she declared.

"I can assure anybody who questions my motives I am not a troll or instigating a witch hunt. I am morally doing something that is right -- an element of a human being that is quite frankly lacking from Councillor Buckley.

"A change in the law is needed and that is my end goal."

In a statement, councillors Nicola Kirkham and Robert Knotts said in light of Mike Buckley's recent conviction government policy should change. They added: "Any new law needs to be retrospective."