Mum's blog up for gong
Reporter: Gillian Potts
Date published: 03 May 2016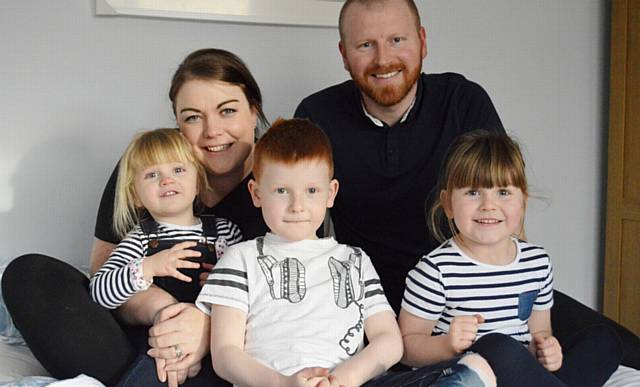 COLETTE Burgess's blog "We're going on an adventure" charting the lives of her, her husband Dave and their children Ben (6), Chloe (4) and Amy (2) has been shortlisted
A FAILSWORTH mum is in the running for a national blogging award for the second year running.

Colette Burgess, author of "We're going on an adventure" which charts the lives of her family along with product reviews, competitions and commentary on parenting issues, has been shortlisted in the MAD Blog Awards.

Colette, a teacher by day and blogger by night, is one of just six finalists in the "Best Schooldays Blog" category of this year's Mum and Dad Blog Awards, beating more than 7,000 other nominations.

Last year she scooped "Best Pre School Blog" for her tales and anecdotes about her, her husband Dave and their children Ben (6), Chloe (4) and Amy (2).

"I started writing my blog as a way of recording memories and milestones in my children's lives," said Colette.

"It's always so exciting to know that people enjoy reading about our adventures, and blogging is a fantastic way to connect with other parents. I'm so happy people nominated my blog, and it's such a great honour to have reached the finals of the awards for a second year."

Sally Whittle, founder of the MAD Blog Awards, said: "Parent blogs are the new bible for modern parents – more than 10 million of us turn to blogs for tips, entertainment and support every single month, and our finalists represent the very best of those blogs. It's such a diverse community, with inspiring posts, pictures and videos on every topic you can imagine.

"Whether you're looking for crafts for your kids, inspiration for your next holiday or insightful creative writing, blogs are the place to go."

Readers can follow Colette's blog at www.goingonanadventure.co.uk and have until May 27 to vote for their favourite blogs in 14 categories at the Tots100 MAD Awards website www.tots100.co.uk/awards.

The award winners will be revealed at a gala awards ceremony at the Royal Garden Hotel, in London, on September 16.