Melanoma charity is helped by TV star
Reporter: Gillian Potts
Date published: 20 May 2016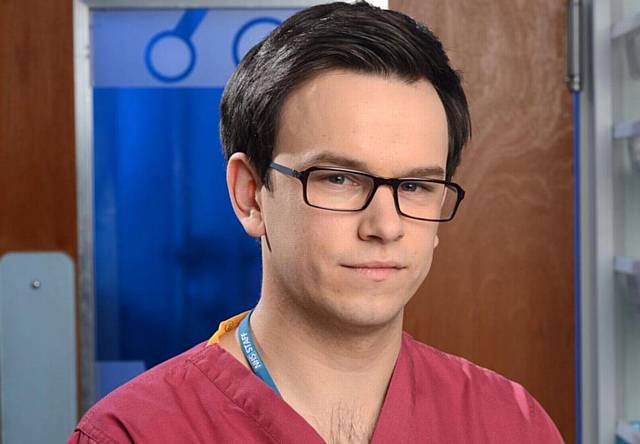 HOLBY City and Game of Thrones actor Rob Ostlere has joined Shaw based skin cancer charity Melanoma UK during May's Melanoma Awareness Month - Rob as Holby character Arthur Digby who is battling skin cancer for the second time
HOLBY City actor Rob Ostlere has joined Shaw-based skin cancer charity Melanoma UK on an awareness campaign.

Rob's character Arthur Digby is fighting for survival after battling with melanoma for a second time in the BBC drama.

He says the role has given him an insight into the disease and he's using it to call on people to regularly check their skin in an attempt to spot early signs of malignant melanoma.

During May's Melanoma Awareness Month Rob is encouraging more people to give themselves, or their partners, a once-a-month skin check.

"Whilst playing a character that has been affected by melanoma I've become increasingly aware of the importance of regular skin checks," said Rob, who also played Ser Waymar Royce in Game of Thrones.

"Self examinations can alert you to changes in your skin and aid in the early detection of skin cancer."

Melanoma UK is promoting #MelanomaCheck throughout the month in a bid to increase awareness of the disease and hope that Rob's words will inspire others.

Founder Gillian Nuttall said: "The melanoma story line in Holby has certainly done a good job in raising awareness of the disease.

"Our helpline has seen an increase in calls from people who otherwise might not have paid attention to a skin change. Rob Ostlere's portrayal of a patient has resonated with a number of melanoma sufferers."

Earlier this year X-Men actor Hugh Jackman appealed to people to wear sun cream and get regular skin checks after having his fifth skin cancer removed since 2013.

There were more than 12,500 new cases of melanoma diagnosed last year.