MP denounces 'sham' health devolution deal
Reporter: Lucy Kenderdine
Date published: 26 May 2016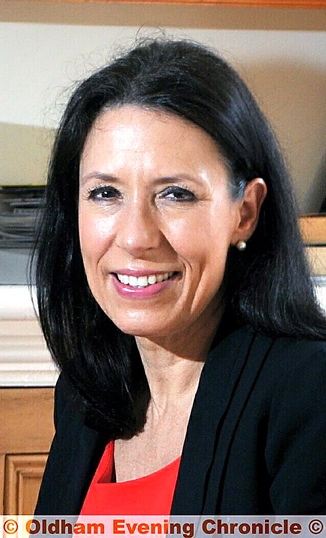 MP Debbie Abrahams
DEVOLUTION plans for Manchester's health and social care services have been described as a "sham" by Oldham MP Debbie Abrahams, who says she has "grave concerns".

The Oldham East and Saddleworth MP released her latest NHS Check report in which she argues the Devo Manc plans are more about devolving financial risk to Greater Manchester and less about devolving powers.

Last month, Greater Manchester took responsibility for £6 billion of health and social care funding from central government, designed to give local leaders and clinicians the chance to tailor budgets and priorities to directly meet the needs of local communities with the aim of improving healthcare for the area's 2.8 million residents.

But Mrs Abrahams, a fellow of the Faculty of Public Health and former NHS trust chairman, has concerns about the deal, announced in November 2014.

"It's about delegation not devolution," she said.

"There are concerns that £6 billion is considerably less than the size of the health and care economy, which is nearer £8 billion.

"At the time, there was also controversy about the secrecy of the deal and the lack of democratic mandate for such a move.

"However, following the General Election in 2015, the government pushed forward with Greater Manchester devolution and has rolled its plans for devolution across the country as part of the 2016 Cities and Local Government Act."

She added that, although there is cross party support for the principle of devolution and ensuring decisions about services are made with the people they serve, there are issues that need to be addressed.

The Labour MP said: "The lack of clarity regarding financial and governance arrangements is of grave concern and needs to be addressed as a matter of urgency.

"The fact the chief executive of health and social care in Greater Manchester will not take up his post until four months after devolved arrangements is a case in point.

"I absolutely support the principles of devolution, but this deal is a sham.

"It is more about delegation from NHS England.

"With all but one NHS trust in deficit, the £2 billion deficit forecast by 2020 looks optimistic."

Mrs Abrahams calls for urgent action including an independent assessment to examine the impact on Greater Manchester.

She said: "Closer scrutiny of health and social care devolution, and other aspects of Devo Manc, by parliamentary representatives needs to be instigated immediately."