Labour's immigration debate in the open
Reporter: Iram Ramzan
Date published: 30 May 2016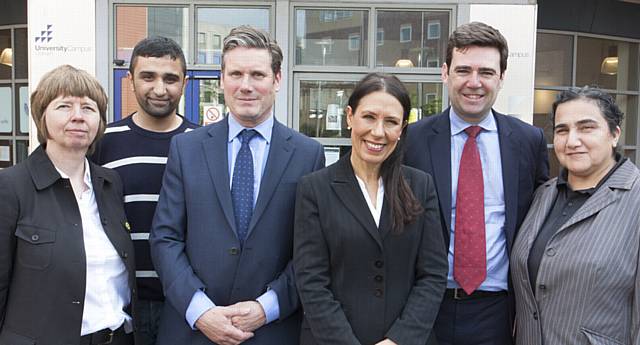 LET'S TALK IMMIGRATION . . . Katherine Griffiths, director of HE at UCO, Councillor Shaid Mushtaq, chair of UCO, Sir Keir Starmer, MP, Debbie Abrahams, Andy Burnham, Marzia Babakarkhail.
OLDHAMERS will have a say in helping the Labour Party in forming its immigration policy.

Shadow immigration minister Sir Keir Starmer, MP for Holborn and St Pancras, in London, visited Oldham on Friday as part of his UK-wide tour to speak to voters about immigration.

Post-election research has found that immigration was one of the main reasons Labour failed to win more support last year.

Sir Keir was invited by Oldham East and Saddleworth MP Debbie Abrahams to speak to members of the public at the Oldham Business Centre.

Shadow Home Secretary Andy Burnham was able to join shortly before the session came to an end.

Most of the people in the room expressed concerns about integration and rights of asylum seekers, as well as cuts to English language courses and regulating employers who are taking advantage of asylum seekers.

Asylum seekers living in Oldham shared their stories, explaining how they have been waiting anywhere from two years to 14 years, for the Home Office to make a decision on their case.

In 2015, net migration grew to 333,000, a rise of 94,000. Sir Keir said the Government's immigration policy is "not working" but also admitted Labour has been "squeamish" about discussing immigration.

He said: "We are conscious that the Labour Party has got to refresh and re-think its position on immigration. The arty has shied away from the debate - it doesn't know what to say when confronted by people with different views.

We have got to have a real conversation about immigration.

"We're going to have to be blunt, frank and open. Nothing is off limits.

"We're not coming to sell a policy,, we're coming to listen before we look again at this policy."

Sir Keir said that while Britain has a duty to offer help to refugees and asylum seekers, this has put pressure on public services, especially in the North West.

Oldham is one of the 10 local authorities nationwide with the highest concentration of asylum seekers. Home Office immigration statistics show the town was 10th on the list, with one in every 360 residents an asylum seeker.

Most recently, former Labour shadow minister Chuka Umunna criticised the immigration debate for focusing "almost exclusively on numbers, with too little attention paid to how we integrate people once they settle here".

Sir Keir went on to say: "I'm so encouraged to see so many people to a public meeting on a Friday afternoon, and being prepared to express their views around the table.

"There's a very honest and engaged community in Oldham, many of whom have strong views one way or another.

Mr Burnham admitted that Labour has previously got it wrong about immigration. Sir Keir's UK tour will, he said, be used to help shape a policy on immigration, both immediately after the EU referendum next month, as well as in the run up to the next General Election.

The MP for Leigh said: "We're at fault. We have left a situation where we backed away from the issue. People's concerns need to be addressed.

"People want an honest debate about immigration. It's a real concern people have. We need to have a balanced debate, without it being done in a sensationalist way.

"I'm proud that Keir has wanted to do this. Not many would have been prepared to do it.

Ms Abrahams added: "Many people do have legitimate worries about immigration in the UK. We must listen to people's concerns and address the issues raised, as Labour is doing in open and honest debate.

"That's what Keir's tour of the UK is all about and why he's here in Oldham today."