Capital's mayor in Remain bid visit
Reporter: Alex Carey
Date published: 16 June 2016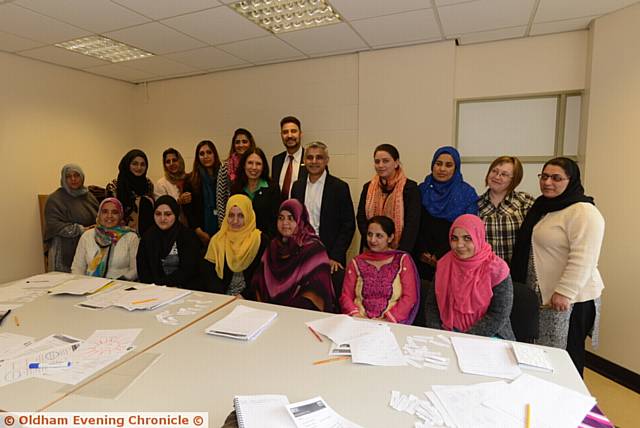 The Mayor of London Sadiq Khan visits the Fatima Women's Association at the Pakistani Community Centre.
ONE OF the most powerful figures in the UK, Mayor of London Sadiq Khan, rolled into Oldham on the Remain Campaign bus yesterday to explain why he thinks the country is stronger in Europe.

Mr Khan, who says for every £1 the UK gives to the EU we receive £10 back, visited the Fatima Women's Association in Glodwick to meet a group of local women and to share his thoughts on June 23's EU referendum.

The Labour politician, who was joined by Oldham MP Debbie Abrahams and North West MEP Afzal Khan on his visit, argued that Oldham receives a great deal from the EU - money he says the town would not get from a Conservative government.

He said: "I have seen the figures for the amount of grant money that Oldham gets from the EU in terms of the regional fund, the structural fund, money we get for youth unemployment, money we get to regenerate the area. Oldham receives money from the EU and, I'm not being funny, but there's no way this Tory government would give Oldham that money. The EU provides a safety net.

"The people involved in the Leave campaign, they're not soft, cuddly Tories. Nigel Farage, Boris Johnson and Michael Gove haven't got a vision of a utopian Britain where people in Britain benefit from leaving the EU. It's so important for areas like Oldham which, for geographical reasons, need the support."

Mr Khan expressed concern over what a Brexit could do for the economy.

He said: "For every £1 we give to the EU we get back £10 in relation to jobs, lower prices, trade and investment. Getting ten back for one is not a bad deal. Nine out of ten economists say staying in the EU is better for us in terms of jobs, growth and prosperity.

"The reason 60 per cent of the world's leading companies have their European headquarters here is because it's a market to 500million. That creates jobs and prosperity but if we weren't in the EU why would Sony or Bloomberg or Chinese Telecom have their European headquarters in our country? They'd leave and go elsewhere.

"Siemens, Nissan, Toyota - they have factories here, why? Because they make stuff here and they can sell it to the rest of Europe with no tariffs."

Mr Khan said issues often blamed on immigration are the fault of the government and politicians, not immigrants.

He also said that immigration will go up if the country votes to leave.

He added: "Immigration has brought huge economic, cultural and social benefits to our country.

"There are challenges with a fast paced migration and how it impacts on schools, on public services like the NHS. The responsibility that there are affordable homes to buy and rent, to ensure the NHS is working for all of us is on the government and politicians. Don't blame the other.

"Let's address the concerns, not play upon them. If we leave the EU and there are fewer jobs, wages are less good, businesses are doing less well that will be a problem for all of us.

"We have always been an outward-looking, open-minded country. We embrace cultures, we learn from other cultures and we've got to think about our children and grandchildren."