Bin collections every 3 weeks
Reporter: Alex Carey
Date published: 21 June 2016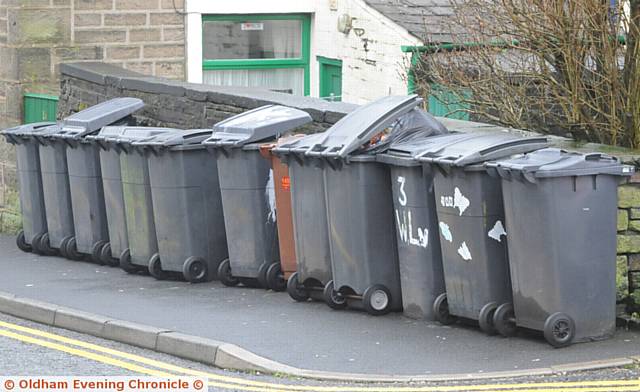 ALL piled up . . . rubbish bins could be emptied once every three weeks
OLDHAM Council has revealed plans to reduce bin collections to just once every three weeks.

The authority is set to consider the plans with an aim to boost recycling rates and save money with changes to how rubbish and recycling is collected across the borough. The proposals, which will go before Cabinet on June 27, would see a "simplified" three-weekly collection cycle introduced with one rubbish or recycling bin being emptied each week.

Grey bins would be emptied one week, blue bins the following week and brown bins the week after that. Green food and garden waste bins would still be emptied every week.

The Taxpayers' Alliance has criticised Oldham Council's proposal, referring to it as "a drastic cut to one of the most basic services".

In 2014, Bury Council became the first authority in the country to reduce bin collections to once every three weeks and the change was met by heavy criticism from local residents, with an increase in fly-tipping and vermin highlighted.

Councillor Barbara Brownridge, Oldham Council's Cabinet member for neighbourhoods and co-operatives, said: "Over the next two years the council needs to make £37million worth of savings, which means we need to do things differently. Doing nothing is not an option.

"The changes would see recycling rates increase and reduce the cost of disposal ­- helping to save taxpayers' money so it can be used on other essential public services.

"We are given clear targets to meet and there are huge financial penalties on council taxpayers because we are not recycling enough.

"Bury and Rochdale have been operating similar collection arrangements for some time now and they have seen increases in their recycling rates.

"Residents should be reassured that the continuation of weekly collections for food waste and garden waste will eliminate the potential for bad smells and flies, particularly during the summer months."

The new strategy, which would be introduced in early October, has been developed to complement Greater Manchester's Waste Management Strategy. Its key aims are to increase recycling to more than 54 per cent by 2017 and reduce the amount spent on the disposal of general waste.

Dia Chakravarty, political director at the Taxpayers' Alliance, said: "Reducing bin collection to once every three weeks is a drastic cut to one of the most basic services taxpayers expect their council to provide.

"How many households will be able to hygienically retain three weeks' worth of rubbish? Local residents will rightly be wondering what exactly their council tax is going towards, particularly as Oldham Council has increased tax 14 times over the last 20 years."

Although Bury has seen an increase in recycling since implementing a similar system, fly-tipping incidents from April, 2014, to May, 2015, increased by 53 per cent in the borough ­- compared with the average increase that year across England of 6 per cent.

However, Bury Council says there was only a 1 per cent rise in the year following the change to three-weekly collections.

Concerns regarding an increase in rats were highlighted when leaders of Bury Unite commercial branch, which represents bin men who work across the borough, made a Freedom of Information request to Bury Council asking about vermin complaints before and after three-weekly collections were introduced.

In the 12 months up to the change there were 1,514 complaints, compared with 1,789 in the 12 months after.

One bin man admitted: "There are definitely more rats and flies now."

Oldham Council would provide any extra blue, brown and green recycling bins free of charge. Any household with smaller recycling bins would be able to swap to a larger one.

Households with extra waste they can't recycle could be entitled to an extra grey bin.

Information packs explaining the new service and a bin collections calendar specific to each area would be distributed to neighbourhoods before implementation.

For more information about recycling in Oldham visit www.oldham.gov.uk/waste or call 0161- 770 6644.