Closure plea for failing school
Reporter: Karen Doherty
Date published: 28 June 2016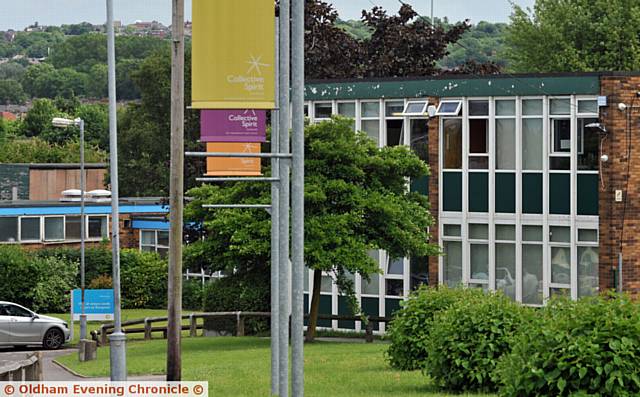 FAILING . . . Collective Spirit in Chadderton
OLDHAM West and Royton MP Jim McMahon is urging the Government to close down a failing Chadderton free school.

He has written to Education Secretary Nicky Morgan demanding "urgent and robust action" after the Collective Spirit Free School received a damning report by education inspectors.

Rated

Ofsted has rated the secondary ­- which opened in September, 2013, amid fierce opposition ­- at the bottom grade of inadequate.

They say it is failing to give pupils an acceptable standard of education and have placed it in special measures.

The quality of teaching is deemed to be inadequate, with too many lessons taught by temporary teachers, the curriculum does not meet pupils' needs and the school does not have a library or age-appropriate books in classrooms.

Pupils' behaviour is also inadequate, they do not feel safe from bullying and fighting, and absences and exclusions are too high.

Oldham Council was forced by the Government to hand over part of the former South Chadderton School site in Butterworth Lane to Collective Spirit ­- despite objections that it was a prime development site.

Mr McMahon was council leader at the time and opposed the school.

He said: "This is simply one of the most damming Ofsted reports I've ever come across. It paints a picture of a school out of control with poor teaching, an unsafe environment and little chance of improvement.

"These young people, our young people, only get one chance and this free school experiment ­- which was forced on the local community ­- has failed.

"I am calling on the Government to do the right thing and close the school, with students accommodated at mainstream schools in the borough."

Free schools are state-funded, independent schools set up by parents, teachers, charities, businesses, religious groups and others.

Collective Spirit has 200 year seven, eight and nine pupils and Ofsted visited last month to inspect it for the first time

They say that the school's ability to improve has been hindered by instability in leadership.

Prinicpal Elizabeth Whitehead went on sick leave in January leaving staff, according to Ofsted, "rudderless" for four months until associate head teacher Mark McLoughlin was appointed to support the school four days a week.

The chairman of governors has also resigned, and an interim has stepped in.

But Ofsted praises Mr McLoughlin for quickly identifying the challenges facing the school and added: "He has taken swift action to improve things and has begun to win back the confidence of some, if not all, parents.

"He knows what is needed to improve the school, but there is a long way to go before the school provides an adequate quality of education for all its pupils.

"Leaders have a firm commitment to improving the life chances of disadvantaged young people."

In a letter to parents, Collective Spirit chief executive Raja Miah states: "Collective Spirit Academy Trust had been aware of the school's shortcomings for some time.

"Many of the recommendations in the report are points that had already been previously identified, and actions already being planned.

"The trust had acted to review the curriculum and standards at the school as long ago as summer, 2015.

"The progress of this review was hindered by the sudden long-term sickness of the principal. The trust then acted to appoint an experienced school leader to begin restoring the educational vision, which we so strongly believe in.

"Mr McLoughlin has agreed to continue as interim principal until a new senior leadership team is appointed. We are determined that rapid and sustained improvements continue to be made."

Councillor Amanda Chadderton, Oldham's member for education and early years, said: "This report is very disappointing. We will be working with the regional schools commissioner to support the school to improve."