Pitch battle
Reporter: Jacob Metcalf
Date published: 28 July 2016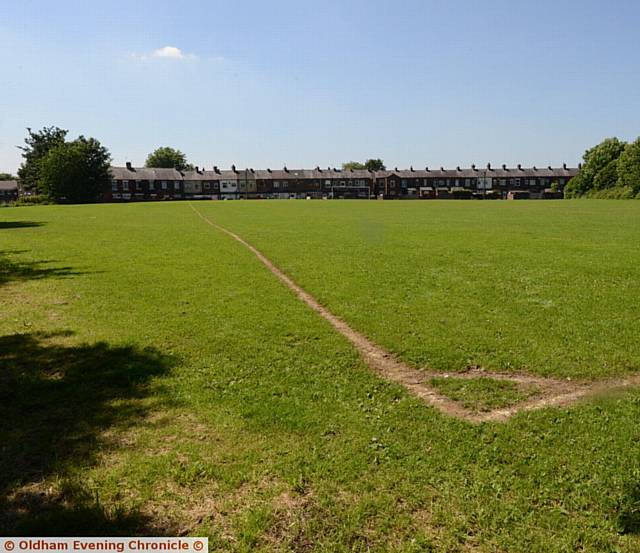 UNDER threat . . . the football field next to Coalshaw Green Park could make way for housing
ANGRY locals have given plans to replace one of Oldham's better grassroots football pitches with a housing development the red card.

Oldham Council is considering an application for 124 houses on the former Rose Mill site, Chadderton, which would see the Coalshaw Green playing surface removed and replaced at the site on Granby Street.

Plans have sparked fierce opposition with the "Save Coalshaw Green Playingfields" Facebook group having already garnered 85 members.

If proposals are given the green light it would see Sunday League team Crown FC ­- who finished fourth in the league and reached the quarter finals of the Community Cup this year ­- lose their spiritual home.

The opposition group ­ raise concerns over the loss of land for children to play and the impact an estate would have on the area.

Jen Buckley, group administrator, said: "They're taking away somewhere for children round here to play in safety."

A member of the group and former Coalshaw Green Road resident Lyn Walley felt the proposals were shocking and members also raised concerns that anti-social behaviour would be made worse.

Kevin Stott, a group member, said: "Which would you prefer for your children ­- a great playing field or more street corners on which to hang around?

"South Chadderton neighbourhood police team can't handle the area already with anti-social behaviour and cars flying up and down Coalshaw Green Road.

"Adding another 700-plus residents to this area is an absolute joke.

"All public services are being cut. South Chadderton will become a shambles."

The application from Countryside Properties (UK) Ltd and Kingsley Residential Ltd, says it will help address a shortfall in new and affordable housing in the area while supporting a strong, vibrant and healthy community and boost the local economy.

Crown FC manager Paul Marshall has concerns as the pitch is considered to be one of the better sites around with matches rarely called off during the winter months.

He said: "There's not a lot of good grassroots football pitches around at the moment.

"It is one of the better pitches and if they take Coalshaw Green away I don't know what they are going to do."

Paul also questioned whether residents who overlook the field would want to be left staring at a housing estate.

He added: "We have got to look at what it does to the community. Would you want to look out of the window on to a housing estate or on to an open field?"

Proposals are due to go before Oldham Council's planning committee later this year.