Top-class studentsbuck national trend
Reporter: Karen Doherty
Date published: 26 August 2016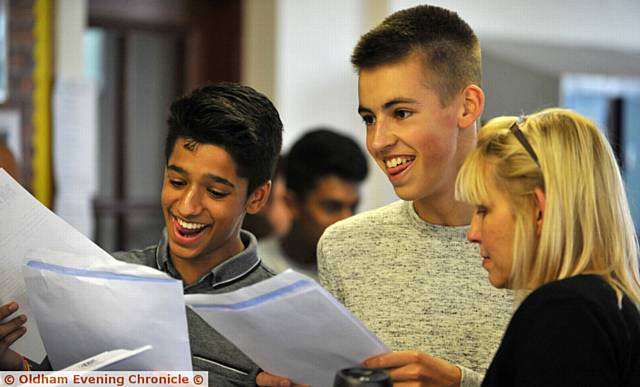 ALL SMILES . . . Prinesh Mistry and Ben Taylor receive their results from staff at Hulme Grammar School
OLDHAM schools celebrated improved GCSE results despite a record fall in national performance.

Resits, changes to grade boundaries in maths, and the government's emphasis on "traditional" academic subjects have all been blamed for the national decline.

But in Oldham indications are that the five A* to C grade pass rate (including English and maths) has increased from 50 per cent last year to 55 per cent.

Among those reporting their best-ever results are Hathershaw College and Radclyffe School.

There have also been significant improvements at Failsworth School, Waterhead Academy and Oasis Academy Oldham in particular.

Councillor Amanda Chadderton, cabinet member for education, congratulated pupils and said: "Last year was a particularly challenging year, so to have improved results overall is an enormous credit to the hard work of the young people, teachers, staff and parents.

"We also saw significant improvements in our A-Level results last week which highlights the huge positive strides our education system is making."

And Debbie Abrahams, MP for Oldham East and Saddleworth, said: "Well done to everyone receiving their GCSE results.

"Seeing the percentage of A*-C pass rate shoot up, bucking the national downward trend, is a great reflection on both the students and all the hard working teachers.

"But if your results weren't quite what you wanted take heart, I left school with 3 GCEs. Keep going."

Nationally the number of entries awarded A* to C grades dropped from 69 per cent to 66.9 per cent - a record fall to the lowest figure since 2008.

The proportion of pupils achieving A* and A grades is also at it lowest since 2007.

The new Progress 8 performance measure will judge schools on the progress made by pupils in eight subjects, with a large emphasis on the English Baccalaureate subjects - with some critics saying some pupils may not not be doing subjects they are best at. The number of vocational qualifications which will count has also been slashed.

There has been an increase in the overall entries to EBacc subjects, but the number of pupils sitting languages has fallen.