Exhausted but so proud at the end
Reporter: Rosalyn Roden
Date published: 12 September 2016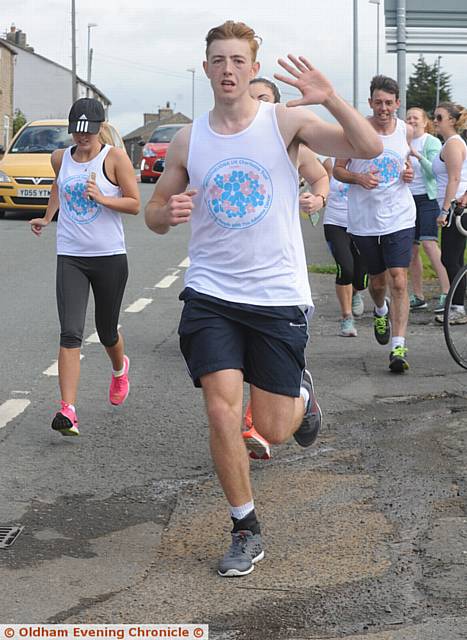 RUNNING man . . . Jake en route from Halifax to Oldham
A PROUD grandma has praised her grandson for completing a remembrance run, joining in for two miles herself.

Jack Allingan, 20, undertook the 15-and-a-half mile route from his home in Halifax to his nan's house in Moorside.

He was joined by family members for sections of the poignant journey, in memory of his grandad Michael Allingan, 73, who died in July from an aggressive form of mesothelioma, an asbestos-related cancer.

The family has topped £2,000 for Mesothelioma UK, with three cousins and grandma June Allingan, 73, accompanying Jake for the run.

Mrs Allingan, who joined Jake for a two-mile section, said: "He did really well and it was great to have family and friends there. I was so proud. He put his heart and soul into it. My daughter-in-law took part and her two sons cycled the route. Mike would have been so proud."

Jake, who returned to Warwick University on Sunday, completed the route in two hours and 15 minutes, which took him through Sowerby Bridge and Ripponden, before finishing in Spring Hall Rise.

After running the first seven miles alone, he was joined at the Turnpike Inn by one cousin, then by his dad, grandma, auntie and two cousins, in turn.

Latics fan Jake said: "I was exhausted, but delighted to remember my grandad through this run. Thanks so much to my family and friends for supporting me throughout, by running with me or giving encouragement at different points along the way.

"Thanks to all who have donated to Mesothelioma UK ­- I am just over the £2,000 mark and contributions can still be made."

To donate visit virgin moneygiving.com/Jake Allingan.