MPs blast proposed boundary changes
Reporter: Jacob Metcalf
Date published: 14 September 2016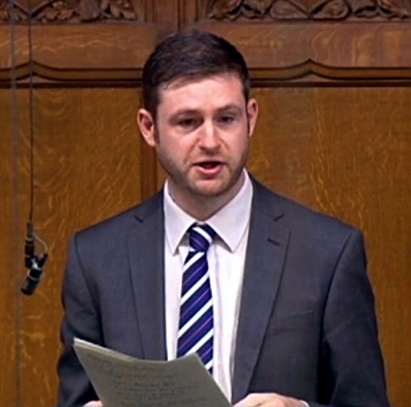 Oldham MP Jim McMahon
OLDHAM'S MPs have hit out at proposed boundary changes they say would be devastating to the borough.

The Government's proposal to review parliamentary borders to equalise constituencies to around 75,000 voters and reduce the number of MPs by 50 to 600 would see Oldham "carved apart".

The plans ­- which would save £12 million from fewer MPs ­- would see Oldham share representatives with Rochdale, Tameside and Manchester.

Local MPs warned that it would split historic towns and communities while also creating a huge workload when there are enough voters to create two constituencies in Oldham alone.

As part of the proposals, Royton would be split with Royton North going into a new Littleborough and Saddleworth constituency and Royton South into a new Oldham constituency while Saddleworth West and Lees would be joined up with Failsworth.

Furthermore, the review by the independent Boundary Commissions of England, Wales, Scotland and Northern Ireland, would see MPs fight each other for re-election and could effect the strength of the leading parties, particularly Labour.

The current review is based on proposals previously agreed by the coalition Government in 2011 before they were subsequently put on hold.

Jim McMahon, MP for Oldham West & Royton, accused the Government of hypocrisy while expressing his unhappiness at the proposal.

He said: "It is right that we highlight the hypocrisy of the Government who are forcing this through while at the same time cramming the unelected House of Lords with their cronies at a cost of £34 million, compared with the suggested £12 million saving resulting from fewer MPs.

"But more worrying is that two million people who registered to vote after December have been excluded from the process.

"Like many, I believe Oldham is due MPs contained wholly within the borough based on the rules set, rather than being split off as if our borough was an afterthought.

"Having three MPs working across four local authorities adds significantly to the casework load of what are already extremely busy offices supporting local people."

Mr McMahon also highlighted how it would destroy close working relationships within wards.

He added: "I am deeply unhappy with the proposal to split Royton in two and to lose other wards where I've developed close working relationships.

"In the case of Royton it is an historic town with a strong community identity, but that doesn't seem to be a consideration. The same can be said for the whole borough.

"I'll work constructively with my fellow MPs, the local community and other interested parties to make sure that whatever the final outcome that community identity is respected and common sense is applied.

"I would urge community groups, historical and civic societies and local people to have their say on these proposals."

Debbie Abrahams, MP for Oldham East and Saddleworth, said: "The proposals from the Boundary Commission's review are devastating for Oldham.

"We have been carved apart purely in order to meet the Electoral Commission's size requirements for neighbouring seats.

"In my view it is essential that Oldham has a coherent settlement in the boundary review ­- something that is completely missing in these proposals.

"The previous recommendation in 2011 left the borough with the 'left overs' splitting historic towns and communities, and this one is no better.

"The current number of registered voters easily allows for two whole constituencies within the borough which respect historic towns and community ties.

"I am proud of the work we have done locally, from the Oldham Fairness Commission to the Oldham Education and Skills Commission, Dementia Friendly Oldham and our work on building a strong integrated community.

"These proposals are once again an insult to the people of Oldham and could have a divisive effect on our community's representation in Parliament.

"I will be working constructively to try and ensure the final outcome reflects the identity of communities within Oldham."

Jeremy Sutcliffe, chair of the Oldham Co-op Party, also criticised the proposal.

He said: "This a nonsensical numbers exercise with no regard for historic communities. There are enough voters in Oldham to create two constituencies entirely focused on Oldham residents and their needs.

"The Boundary Commission tried this last time but after consultation the two Oldham seats is what we got. Let's hope for the same common sense this time."

Those wishing to have their say on the current proposals should visit www.bce2018.org.uk.