Free schools make grade
Reporter: Karen Doherty
Date published: 22 September 2016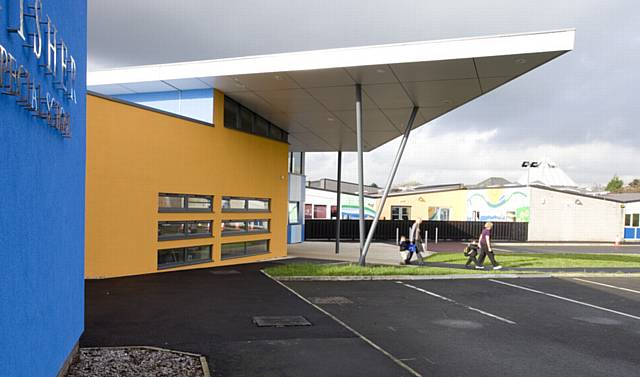 OUTSTANDING . . . Kingfisher School, Foxdenton Lane
TWO new free schools for children and teenagers with special educational needs are to open in Oldham.

The Government has given the go-ahead for the projects which will be run by the groups behind Kingfisher and New Bridge special schools ­- both rated as outstanding by Ofsted. Halcyon Way will have 140 places for four to 11-year-olds with severe to moderate learning difficulties and is expected to open in 2018/19.

It will be part of the trust which runs Kingfisher Community Special School, Chadderton, and is expected to built close to the school on Foxdenton Lane.

The Springboard Project will provide an alternative, practical and vocational education for up to 50 teenagers aged from 14 to 19 in Oldham town centre in late 2017.

Set to open in an existing building, it will be run by the New Bridge Group whose other projects include New Bridge Special School in Hollinwood, the neighbouring Hollinwood Academy for pupils with autism, and a supported internship programme for 19 to 25-year-olds with learning difficulties in Medtia Square, Oldham.

Graham Quinn, executive principal of the New Bridge Group, said: "We're delighted with the news. The Springboard Project would be a fantastic asset to any community.

"It will ensure our young people are taught by industry experts in appropriate learning environments.

"Links with local employers will be critical to ensure that the young people will have a clear route through into the employment market.

"Not all young people learn the same way or choose the same career path.The Springboard Project will offer choice."

The Oldham Education and Skills Commission (OESC) report, commissioned to suggest ways of improving education in Oldham, highlighted a lack of provision for children with severe to moderate learning difficulties. It recommended a free school to address this.

Anne Redmond, executive principal of Kingfisher Learning Trust, said: "This is such good news for children in Oldham as numbers at Kingfisher have been increasing and we have been looking at ways of resolving this.

"As numbers of children attending Kingfisher have increased, so has the complexity of needs, meaning that many children with severe to moderate learning difficulties are also being given no alternative choice of placement other than a mainstream school.

"Halcyon Way will value each child as an individual and provide them with opportunities to develop their confidence to take a full and active part in school life. Learning opportunities will be personalised, innovative and creative."

Free schools are state-funded and independent of local authority control. They have greater freedoms to decide the length of school days and term, their curriculum, teacher pay and how they spend their budgets.

The Government wants to open 200 new free schools by 2010. Springboard and Halcyon Way are among the latest wave of 77 given the green light.

Oldham already has one free school, Collective Spirit, which opened in Chadderton in September 2013 despite opposition.

Oldham West and Royton MP Jim McMahon is urging the Government to close it after an Ofsted report said it was failing to give pupils an acceptable standard of education and placed it in special measures.

Councillor Amanda Chadderton, Oldham Council's Cabinet member for education and early years, welcomed the two new free schools.

She said: "This is excellent news for Oldham and our young people. Both schools will be extensions of our two 'outstanding' special schools.

"It's fantastic that both organisations will be able to expand on the remarkable work they do in Oldham.

"This is exactly the type of offer we want to deliver in Oldham and is another sign of how quickly we are moving forward together since the publication of the OESC report.

We are absolutely committed to delivering an education system that works for every child and young person in Oldham and this news is another huge step forward."