Stubbs powers to title victory
Reporter: Tony Bugby
Date published: 18 November 2008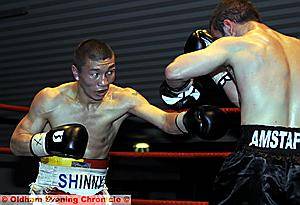 Shinny Bayaar attacks Jordi Hallart
BOXING

SHAW boxer Darren Stubbs captured the International Masters light-heavyweight title to show that age is no handicap for the veteran fighter.

"It wasn't bad for a 37-year-old," declared Stubbs, who gained an emphatic points victory against Sale's Mark Nilson over 10 pulsating rounds.

Stubbs, who already holds the British Masters title at the same weight, fought toe-to-toe with Nilson in a ferocious bout which had the crowd at the Tara Sport and Leisure Centre on its feet.

Stubbs, who later needed three stitches in a cut above his eye, still has his sights set on achieving further honours in a sport he did not take up until the age of 30.

"To get a crack at the British title would be a dream and anything higher than that would be amazing," he said.

It was also a measure of Stubbs' incredible work ethic that he was in such terrific shape for the fight as three months ago he had a lay-off due to knee surgery to repair a damaged cartilage.

His spell of inactivity caused his weight to balloon by two stones and he shed that excess by running 10 miles most days over the moors and around Dovestones Reservoir.

Nilson, who is trained by retired champion Pat Barrett at Collyhurst and Moston Boys Club, proved a durable opponent.

Stubbs, a member of Jack Doughty's Shaw-based Tara stable, began at a whirlwind pace and pummelled Nilson with body and combination shots to such an extent that the Sale-based opponent went down in the third round for a standing count of eight.

Yet Nilson remained a danger as he kept hitting back with dangerous flurries before Stubbs registered a 98-94 victory as he was adjudged to have won by four rounds.

There was also an International Masters title for another of Doughty's boxers as Oldham-based Mongolian Shinny Bayaar landed the super-flyweight title.

He scored a decisive 100-93 points victory against Spanish No 5 Jordi Gallart in another memorable fight.

The Spaniard asked plenty of questions of the 31-year-old Bayaar who admitted it was the toughest of his 17 bouts as a professional.

Bayaar sustained a nasty cut to the side of his eye in the second round and Doughty had to work tirelessly between rounds to stem the flow of blood. It later required three stitches.

Bayaar produced an impressive display of disciplined boxing as he scored freely with a dangerous jab and some lightning-quick combinations.

Gallart took a barrage of punches but, like Nilson in the other bout, proved to be an extremely tough opponent.

if Bayaar is granted British citizenship next year he would be eligible to box for British, Commonwealth and European titles so 2009 could be a momentous time.

Two of Doughty's boxers made their professional debuts with mixed fortunes as there was a points victory for Rochdale's Anwar Hussain at super-featherweight but Limeside's Alan Winterbottom lost by one round to Sheffield's Mo Khaled, also at super-featherweight.