Team work and sportsmanship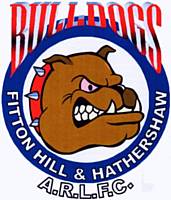 Click to zoom
Fitton Hill & Hathershaw Bulldogs Amateur Rugby League Football Club
We are a friendly club that actively encourages team work and sportsmanship, and we are keen to promote a welcoming family atmosphere.
Our under-9, under-10 and under-11 teams are currently recruiting.
Why not join us on Hathershaw College playing fields or in the school gym, depending on the weather.
You can phone Phil or Dave to book or ask questions, or email us by clicking the contact button on the left.
Or you can have a look at our main website by clicking the button on the right.
failing all the above just come down and visit us with your child, you will be warmly welcomed.