Your Park Needs YOU!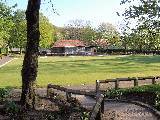 Click to zoom
Dunwood Park has enjoyed good and bad times, but now big plans are afoot.
It's true that the linear park is not quite what it once was, though improvements have been made over the past few years.
Despite the neglect, Dunwood Park is held with great fondness in the hearts of many who spent (or misspent) a significant part their youth under and sometimes up the trees of Dunwood Park.
About five years ago some of the people who had been complaining about the declining state of the park got together to try to do something about it.

They formed the Friends of Dunwood Park, a community group which now has over 150 members.

And now there is the Dunwood Community Partnership that aims at securing a grant from the Big Lottery Fund dramatically to improve facilities at the park.
What is the purpose of the partnership?

The Partnership exists to show that the community supports and promotes the redevelopment of Dunwood Park

Can we make a difference?

Every individual or community group which records their support for and commitment to the re-development of Dunwood Park adds weight to the case we must make to the Big Lottery Fund in order to secure the money for the project.

What is the timescale?

The final bid must be submitted by the end of August, 2009.

The development will take two to three years to complete and the centenary reopening ceremony will take place in the late summer of 2012.

What will we see?

Vastly improved facilities within the park including new drainage and paths, new pavilion, toilets, community room, classroom, interest centre, refreshments, bowls, tennis and other recreational facilities, improved parkland, better managed woodland pathways and access to these features.
All partners will receive a certificate of partnership and be acknowledged in the Dunwood Park Centenary Website. All partners will be invited to the Centenary Celebrations and will be acknowledged in the Centenary Dedication. All partners will be offered a link to their website from the Dunwood Park website.

Want to know more? Click on the link to the Dunwood Park website on the right.