Hectic day awaits Shez
Reporter: Matthew Chambers
Date published: 31 August 2017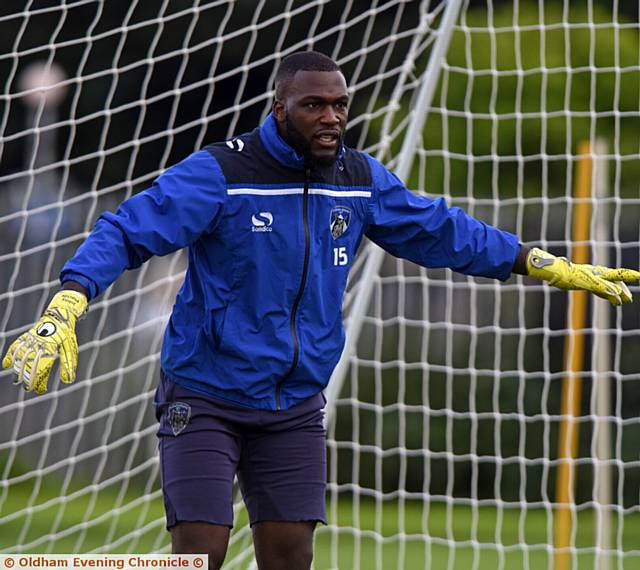 DEAL TO BE COMPLETED? . . . Johny Placide
ATHLETIC could be set for a busy transfer deadline day, with midfielder Mohamed-Labib Maouche among players who could be brought in to the club.

While there has been no official word on the status of Abdallah Lemsagam's attempt to take a stake in the club, chairman Simon Corney said last week that he hopes to tie up a deal by today.

It remains to be seen how agent Lemsagam can get around EFL regulations preventing officials from having interests in more than one club. He would need to pass the EFL's owners and directors' test.

If the green light does come, though, it's likely that goalkeeper Johny Placide will finally be announced as a fully-fledged Athletic player. The former Reims and Guingamp man was photographed at the club in an Athletic shirt last week but there has as-yet been no signing announcement.

Word of Maouche's impending arrival also leaked out through an agent account yesterday.

A central midfielder who started his career with St Etienne where he played for the 'B' side, the 24-year-old then moved to Servette in the Swiss second division without making a first-team appearance across three years.

He then moved to FC Lausanne-Sport in 2014, scoring once in 14 appearances. After that he spent two years with Tours in the French second division, making 57 appearances and scoring three times. Maouche was on trial at Portsmouth last week, with manager Kenny Jackett stating: "He's an interesting player and looks like he has got a bit technically.

"However, he said himself he couldn't get up to the pace of the game and was surprised by how quick it was.

"In his defence, he hasn't played much lately. He wasn't bad and didn't let us down at all."

Athletic's coaching staff have also dealt with a host of players arriving at the club for trials in recent days, with five French-speaking players understood to have arrived yesterday.

A number of existing players have been made available to move elsewhere ahead of tonight's 11pm deadline.

When asked whether the uncertainty behind the scenes at the club is affecting his job, manager John Sheridan simply said he would focus on playing matters.

"I just concentrate on what I have available and what I need to do," Sheridan said. "And that is, get more out of the players and get results.

"It is a bit dour at the moment as we are not winning. As a manager, I just look at the next game. The players have to show they care and show it hurts."

Meanwhile, Athletic striker Courtney Duffus has revealed that he is suffering from a pleural infection. He is receiving treatment and stated on social media he "hopefully will be back out there playing in a matter of weeks".

Ryan McLaughlin, who pulled out of playing at Blackpool on the morning of the game with an injury, has been passed fit to continue with the Northern Ireland squad who face a game in San Marino on Friday (7.45pm kick-off) and then at home to the Czech Republic on Monday (7.45pm).