Just can't stop the beat
Reporter: Simon Smedley
Date published: 03 January 2017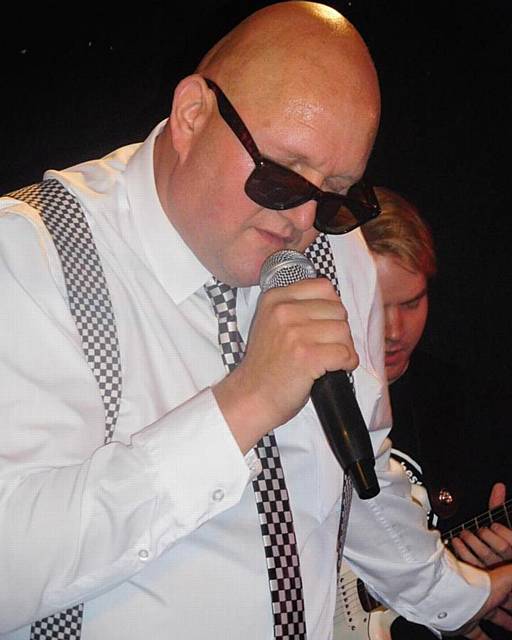 IN the zone . . . Lee Hollister
AFTER an at-times fraught 2016 which has seen a number of line-up changes, Manchester Ska Foundation (MSF) are flying high again and relishing the prospect of another hectic year on the North-West gigging circuit.

Failsworth-based Lee Hollister continues to front the ever-popular seven-strong ska tribute band, but enforced changes in the middle of last year threatened to derail the continuing progress of an outfit who keep packing out pubs, clubs and festivals across the region.

Challenge

Ska Foundation co-founder and tenor sax player Chooi left to go and play in a cruise ship band, guitarist Adam left as he needed to concentrate on his studies, while bassist Paul simply sought a fresh challenge.

However, Johnny took over tenor sax duties, Dan is the new guitarist and Alex now plays bass, with the Great Northern Ska Festival gig at a rammed Bowlers in Trafford Park in August now seemingly a pivotal moment in the continuing MSF story.

"Chooi, Adam and Paul all left around July-time, and all within about a month of each other," said Hollister.

"That meant we had a bit of a panic on to get everyone ready, and nice and tight, for the Great Northern Ska Festival in August.

"With any band, when you get key members leaving ­- and especially three at once - it can be touch and go whether things are going to settle down quickly enough.

"I didn't want the band to not be as good as they were previously, so those guys that came in needed to get it right.

Established

"Don't forget, we were playing there with people like Neville Staples, while we went on just before The Selecter.

"We had to be on our game, because if things hadn't have gone as well as I wanted on that day, then maybe we would have been thinking a different way.

"But to be fair to the new guys, and to those already established band members of course, they were all fantastic.

"We just had a great day, and now, as a band, we've kicked on from there.

"It can be difficult in an amateur band when you're working as well as playing in the evenings.

"Don't forget we're playing upwards of 50 gigs a year too, but people keep coming to see us, venues want to keep booking us, and we want to play.

"The audiences have been great, and we are very fortunate with regards that."

Any audience member at any MSF show will vouch for how great a night they've had (myself included), but it sounds like there is something of a friendly rivalry between Hollister's band - who also include drummer Bob, Sean on keyboards and Lynne on trombone ­- and Blackpool-based Ska Face ­- another top-notch tribute act.

Both bands will play at the Coast Town Festival at Blackpool Winter Gardens together on September 16, an epic gig which will raise much-needed funds for the MS Society.

Is there any banter between the two top bands?

"They are very similar to us, but we've not really mixed with them at all yet," added Hollister.

"Some people think that we're not friends, but I know most of the guys out of Ska Face and they are nice people, and we are friends.

"We've never really crossed swords, so to speak. They're over in Blackpool, they come to Manchester occasionally, and we go over to Blackpool and play now and again.

"It's not like 'what do you think you're doing coming to my town?', it's just not like that at all.

"If Ska Face wanted my help for a gig over this way I'd help them, and I'm sure they'd do the same for us over there."

Before that, MSF will also star alongside Secret Affair and the Lambrettas at Modfest, at the Morecambe Winter Gardens on July 15, the Great Northern Ska Festival again on August 19, plus many, many more local gigs, starting this coming Friday at Tara Leisure in Shaw (it's free entry).

Hollister clearly relishes being part of the exciting and hugely popular 'tri-scene' that continues to pack in the numbers.

He added: "You've still got the mods, the ska fans and rude boys and rude girls, and then you've got the northern soul fans.

"It is like a big mix in there, and they'll all listen to each other's music, dance and have a great night.

"The ska stuff and the mod stuff does sit nicely together, though. It's a good crossover."

Hopefully you'll get the chance to catch up with the Manchester Ska Foundation at one of their 50 or so gigs this year - just make sure you've got your dancing shoes on.