Gigs for a good cause
Reporter: Simon Smedley
Date published: 19 July 2016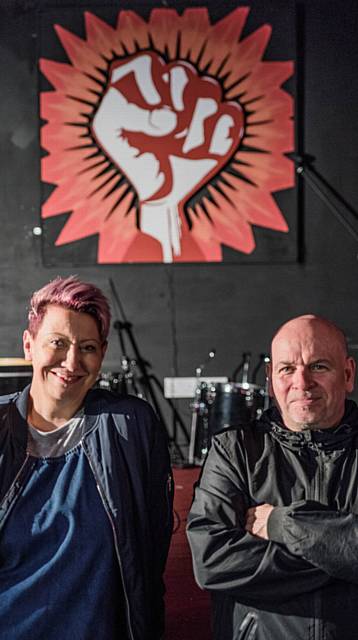 Photo: Andy Carson
WENDY Smith and Louis Beckett
WATERHEAD lass Wendy Smith is urging her home town of Oldham to get behind "Musicians Against Homelessness" ­- a raft of brilliant fundraising gigs being staged in and around Manchester between September 18 and October 3.

The fortnight-long event, dreamt up by MAH co-founder Emma Rule and aimed at supporting homeless charity Crisis, is so far set to boast between 20 and 30 showcase gigs, chiefly in the city centre.

However, event organiser Wendy, who is managing three of the eagerly-anticipated shows at the Ruby Lounge, the Live Room and one more still to be confirmed, would love Oldham venue(s) and bands/artistes to get involved in a festival of mostly unsigned music which has already proved incredibly popular.

Wendy said: "We've been overwhelmed with the response so far, but there's some fantastic venues in Oldham and we're on the lookout for somewhere up there because we have got bands itching to get on and get involved. There's at least 15 bands that I know of who are keen to get involved with MAH and perform, so there's plenty of scope for Oldham to join in.

"Everybody knows Oldham is a hotbed of talent right now. This whole project will be good for support, and I know the Oldham people would get right behind it.

"Ok Broken and The Madding Crowd are playing at the Miners club gig in Moston, but I know there are other great bands who may want to get on board.

Cracking

"By supporting these events and this project, and by having a great night at a gig for just four or five quid, everyone can have a cracking night out knowing that every penny you've given is going to directly affect somebody who may be in a very vulnerable position.

"It's going to be an amazing event. Over the period we're going to have the most insanely talented unsigned, and some signed, bands getting on board and just doing their thing live.

"It's going on across Greater Manchester, and currently we've got about 50 or 60 bands, at various venues, playing live."

Artistes and/or venues can contact Wendy, or regional manager Andy White, via Facebook or Twitter if they would like to get involved.

Wendy has also been keen to shout from the rooftops about one of her other exciting projects - the 'Unannounced' show, which is just about to go live on the Miners' Internet Radio channel, which is based at Louis Beckett's club in New Moston.

"Basically it's a new platform for unsigned bands, musicians and artists," added Wendy.

"You don't have to be in a band, it doesn't have to indie - we've got no genre specification. If you are unsigned and you are looking for a platform, we want to play your music.

"Obviously we're not going to put any old band on, for instance if you've just been practising in your garage for a day, but if in our little opinions we think it's tight enough we'll get it on there for you."