Winger sure of surviva
Date published: 23 August 2016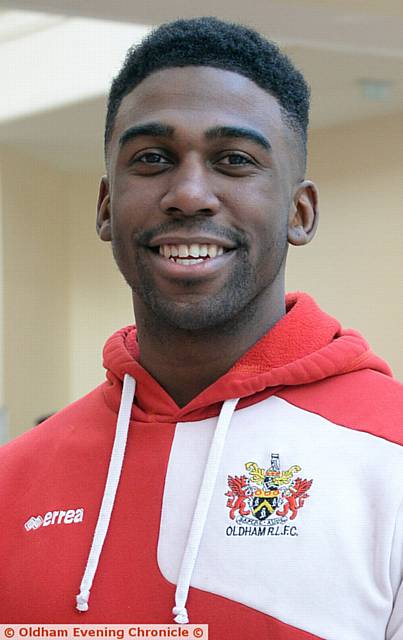 Jamel Chisholm
DESPITE the 82-0 hammering at Bradford, winger Jamel Chisholm is confident Oldham RLFC will do enough over the remaining four games of the season to stay clear of the Championship Shield's bottom two.

"I know that mathematically we can still be caught, but for me the win at Swinton Lions clinched our survival," said the 23-year-old former Leeds Rhinos junior, the latest of Scott Naylor's men to sign a new one-year contract to cover 2017.

With two to go down, Cumbrian neighbours Workington and Whitehaven are staring relegation in the face, each on 13 points below Swinton (17) and Oldham (18).

Roughyeds can virtually clinch a second season at this level if they beat Sheffield Eagles for the third time this season at Bower Fold on Monday, kick-off 3pm.

In the regular season, Roughyeds won 21-20 in a Bower Fold thriller in April and then triumphed 24-16 at Sheffield on a Friday night in early July.

Chisholm (above) added: "The Championship is a lot harder and more competitive than League One, but players want to be playing at the highest level they can achieve.

"I'm 100 per cent sure we'll stay up and I would hope that next year we can be pushing up into the top half of the table.

"I've really enjoyed my first season at Oldham. I know Mo Agoro (ex-Oldham winger) from our days together at Leeds and he told me before I signed that Oldham was a good club and I would never regret putting pen to paper. He was right.

"I had a few injuries when I left Leeds, and it's great to be playing regularly and scoring tries."