A derby to savour as the spoils are shared
Reporter: John Gilder
Date published: 17 March 2017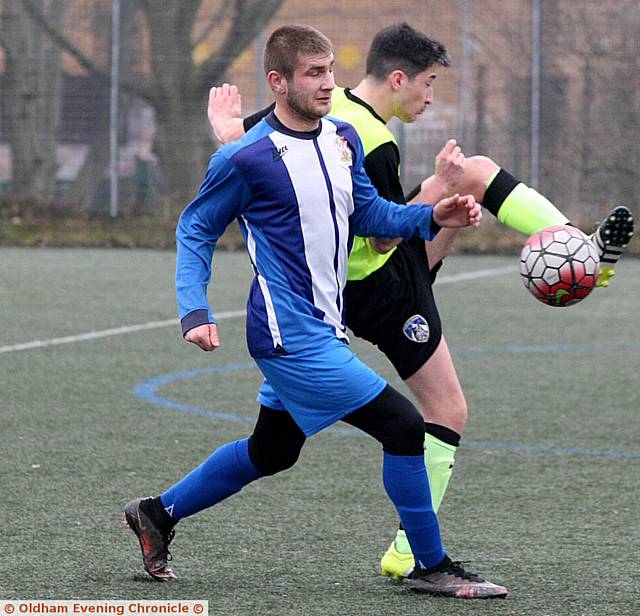 Photo: Paul Sterritt
GETTING STUCK IN . . . Hollinwood's Volodohyr Sheludchenko (blue strip). Pictured (inset) is Abel Tsegay whipping in a cross.
Hollinwood 2, Heyside 2

HOLLINWOOD maintained their recent good form when a late goal from Joe Hingira earned them a point against table-topping Heyside in Division One of the Manchester League at the Chapel Road 3G.

And when long-serving Hollinwood official Gareth Evans said afterwards, "This was one of the best games at amateur level that I've seen," he wasn't too far from the truth.

Resurgent Hollinwood are on a five-game unbeaten run and the confidence among the players was most evident as they gave as good as they got against promotion favourites Heyside.

The lively Daniel Dunn, whose energetic bursts on the wing caused Hollinwood plenty of problems, opened the scoring for Heyside when a clever Gary Shaw pass allowed him to slot the ball home from 12 yards.

LEVELLED

Plucky Hollinwood deservedly levelled 10 minutes before the break when Abel Tsegay picked up a loose ball towards the edge of the Heyside box before skipping past three bemused defenders and neatly slotting the ball home.

When Mark Hopwood's crisp drive from the edge of the Hollinwood penalty area restored Heyside's advantage after 58 minutes, a betting man might have put on a bob or two for the visitors to maintain that lead.

But sub Hingira summed up the quality of this match when his exquisite lob from 18 yards with just three minutes to go rescued a point for Hollinwood.

Disappointed Heyside manager Geoff Howard said: "We didn't manage the game well enough at the end, but every point we get now we've got to earn it."

Evans added: "I know Geoff Howard very well and it was something of a tribute to us when he came across to me afterwards and asked if we were coming up against their rivals at the top in the coming weeks, suggesting that we might do them a favour. Which, of course, we would be happy to try and do."

HOLLINWOOD: O'Neill, Sheludchenko, Incaque, Lingouba, Charles, Injai, Tsegay, Livokoudha, Camara, Boyunga, Ross. Subs: Enow, Hingira, Bondo.

HEYSIDE: Lord, Pauley, Molyneux, Hursthouse, Thorpe, Dowling, Shaw, Ollerton, Dunn, Leonard, Hopwood. Subs: Bogle, Jenkinson, Schofield, Hughes.

STAR MAN: Abel Tsegay (Hollinwood) - A constant threat to Heyside.