Mossley set to lodge protest
Reporter: TONY BUGBY
Date published: 09 December 2008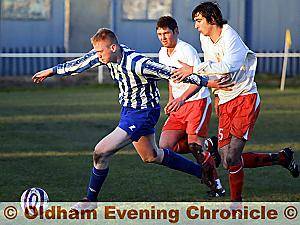 Oldham Town's Darren Scanlan (left) takes on the Blackpool defence in Saturday's 2-0 win at the Whitebank Stadium. Picture by TIM FRANCE.
Local non-league football

MOSSLEY are to make a formal complaint to the Football Association over the abandonment of their UniBond League division one north match on Saturday at Durham City where they were 4-0 ahead.

Lilywhites manager Chris Willcock described it as a "disgraceful" decision which has left a bitter taste.

Willcock said: "I am a great believer in the 'respect' campaign for referees, but this was a disgraceful decision which cost us three valuable points.

"When both managers, the referee (Paul Brown) and assessor met at 2.30pm, I told him that if there was any doubt he should not start the game.

"He was happy with the surface and it was not until they were 2-0 down that the Durham players began complaining.

"The referee never consulted me - and why he couldn't have left making a decision to half time, which was only five minutes away, was also a mystery.

"The pitch was no worse than when we started and Durham originally were keen to get the game played as they have a backlog of fixtures."

Willcock added there was no way he would have been happy for the game to go ahead if there had been any danger to his players.

"I would not have wanted any of my players to break a leg or pick up a long-term injury. I am not that naive or callous," he remarked.

Willcock added that the decision to abandon the game could easily have caused a "riot" among the players as tempers became frayed.

He also pointed out that he is unhappy his side did not receive the credit it deserved after establishing a 4-0 advantage after 35 minutes against opponents who were unbeaten at home in the league.

Willcock said: "It was a great game and spectacle and the goals we scored were not influenced by the conditions in any way - as some have suggested.

"There was never any chance that we were going to concede five goals and lose the match. If anything, we would have won by an even greater margin."

Mossley are in action tonight at Chorley in the third round of the UniBond League's Presidents Cup.

Willcock has vowed to play his strongest side as he wants to do well in the competition in which they received a first-round bye before beating Radcliffe Borough in round two.

These are exciting times for OLDHAM TOWN, who are also in action tonight at Ashton Town in the Vodkat North West Counties League's First Division Trophy.

The second-round match was postponed a week last Saturday and high-flying Oldham will be looking to defeat bottom club Ashton to book a last-eight place.

If Oldham are successful they will find themselves in three cup quarter-finals as well as challenging for promotion from the first division of the Vodkat NWCL.

They have won their last two league games and are currently sixth with games in hand on four of the five teams ahead of them in the table.