Fight night!
Date published: 30 November 2011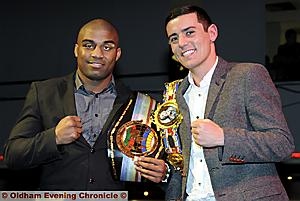 COMMONWEALTH welterweight champion Denton Vassell (left) with British lightweight champion Anthony Crolla.
Local boxing stars in Queen Elizabeth Hall showcase
AMATEUR boxing packed a punch at the Queen Elizabeth Hall when 'Oldham vs The Rest II' showcased an array of local rising stars.

Schoolboys and seniors fought in front of former and current champions on behalf of Oldham Boxing & Personal Development Centre's fundraising event in aid of their move to new town-centre premises.

Anthony Crolla, the current British lightweight champion, successfully defended the Lonsdale belt in Motherwell less than 24 hours before turning up to support the show.

Alongside him were former British light-heavyweight champion, Maurice Coore, and Denton Vassell, the undefeated Commonwealth welterweight champion.

Organiser Eric Noi said: "It was a fantastic event and further evidence that boxing in Oldham is on the up."

Schoolboys action saw Isaac Khan's lighter footwork press home his advantage to win in the opening bout against Tameside Elite's Danny Healy.

A slugfest between Oldham's Cameron Booth and Northside's Aquib Fiaz followed. Both boxers worked hard and entertained well in this enthralling bout, with the visiting competitor edging it on points.

Chorley's Brandon Alexander adopted a sleek counter-punching style which saw him secure victory against the less experienced Kamil Hayer (Oldham) who will have gained much experience to take forward to his next fight. Joshua Heywood (Hamer) took on home fighter Ismal Kahn and won, despite Kahn's steady work-rate and commitment in the ring.

Chorley produced another winner on the night when Adam Watkinson beat David Ali in another closely contested match between equals.

One of Oldham's rising stars, Tom Rafferty, showed he had an edge over his Fox opponent Satar Mohammed and dominated in the ring to bring about a well-deserved victory.

Droylsden's Rhys Taylor won a controversial decision against hometown lad Will Cawley, but thanks to an exceptional show of stamina, skill and determination it was Cawley who took away the night's title of best boxer.

In the first of the two senior matches Amar Lybat, boxing out of Tameside, dealt out some powerful hooks to the head and body to secure his win against Mottram's Zoran Gregory.

And Oldham's James Biddulph got the better of Danny Mapana (St John's).

Anyone interested in joining the team should contact Oldham Boxing on (0161) 628 8466.