Founder of The Authentic Food Company Kamal Basran shares valuable business insights at business breakfast
Date published: 24 October 2017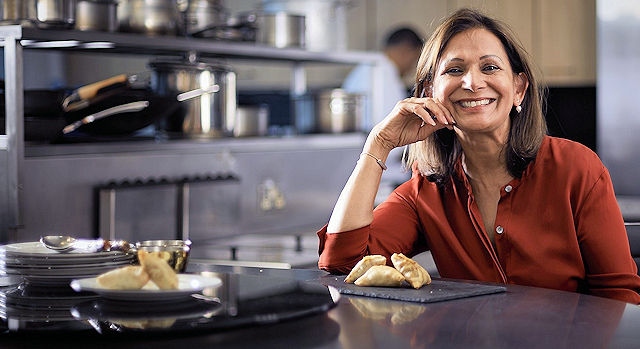 Kamal Basran is the founder of The Authentic Food Company
Kamal Basran shared valuable business insights at Mahdlo Youth Zone networking event on Thursday (19 October) as guest speaker at Mahdlo's Business Breakfast.
Kamal Basran is the founder of The Authentic Food Company, a food manufacturing firm that has been creating award-winning frozen food for the foodservice and retail sector across the UK and Europe for over 30 years.
She founded the business in 1985 when she found herself becoming frustrated at not being able to buy good quality Indian food.
At this time Indian and ethnic food were just in their infancy in the UK and Kamal, a young housewife and mother, saw a gap in the market for a potential business opportunity.
Ms Basran therefore set up her own small business which enabled her to indulge her passion for cooking authentic Indian food and take care of her growing family.
32 years on, that small business has now grown into the very successful The Authentic Food Company. It still remains a family-run company with a reputation for supplying many of the UK's top pub chains, restaurants and retail outlets with the finest range of world cuisines.
Ms Basran spoke about the journey she has been on with The Authentic Food Company, the lessons learned, hardships encountered and values that have made the company the success it is today.
The audience at Mahdlo was made up of local business leaders and entrepreneurs, along with students from enterprise courses at Oldham College.
During the qestion and asnwer session, Ms Basran was asked about how she had grown the company from sole trader to a multi-site operation with £100m turnover and a customer network spanning the food service and retail industries across the UK.
She responded: "Sometimes it is better to not know about the challenges you are going to face, otherwise you would never start.
"When starting a business, be realistic, do what you are good at and do what you are passionate about because you will be doing it 24/7.
"At The Authentic Food Company, passion and care is at the heart of operations. We love our people, love our products and love our customers."
The next Mahdlo Business Breakfast will be held in early 2018, with the guest speaker to be confirmed.