Iceland to eliminate all plastic packaging from own-brand products by 2023
Date published: 16 January 2018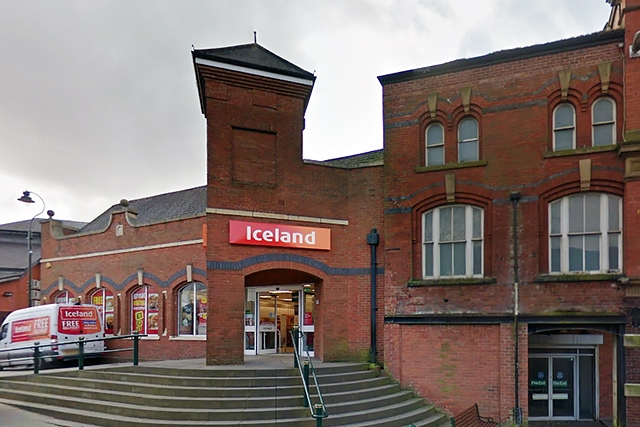 Photo: Google
Iceland on Albion Street, Oldham
Frozen food specialist Iceland has announced intentions to become the first major retailer to eliminate plastic packaging in the next five years.

The retailer, which has three stores across Oldham, is aiming to eliminate plastic packaging from all of its own-brand products by the end of 2023, an important step towards cutting down on the one-million tonnes of plastic generated by supermarkets in the UK each year.

In place of plastic, Iceland will be harnessing the latest technologies to create a range of fully-recyclable packaging comprising paper and pulp trays, along with paper bags. Disposable plastic straws have already been removed from its own label range, and its new food ranges, which are set to hit the shelves in early 2018, will feature paper-based rather than plastic food trays.

Managing Director, Richard Walker said: "The world has woken up to the scourge of plastics. A truckload is entering our oceans every minute, causing untold damage to our marine environment and ultimately humanity – since we all depend on the oceans for our survival.

"The onus is on retailers, as leading contributors to plastic packaging pollution and waste, to take a stand and deliver meaningful change. Other supermarkets, and the retail industry as a whole, should follow suit and offer similar commitments during 2018. This is a time for collaboration.

"There really is no excuse any more for excessive packaging that creates needless waste and damages our environment. The technologies and practicalities to create less environmentally harmful alternatives exist, and so Iceland is putting a stake in the ground.

"In tandem, we will also ensure that all our packaging is fully recyclable and that it is actually recycled, through our support for initatives such as a bottle Deposit Return Scheme.

"We are working closely with our supportive own label suppliers to ensure this pledge becomes a reality, and we'll be providing regular updates to customers on our progress in the months to come."

It is estimated more than 12 million tonnes of plastic enters the world's oceans every year, putting the lives of all forms of marine life at risk, from larger animals through to plankton, and there are fears that toxins originating from plastics are then re-entering the food chain via seafood.

Plastic also creates a significant recycling issue – statistics suggest only a third of plastics are recycled in the UK– the remainder either ends up in landfill, incinerated or is discarded illegally.