Take advantage of additional doctors' surgery appointments
Date published: 16 February 2018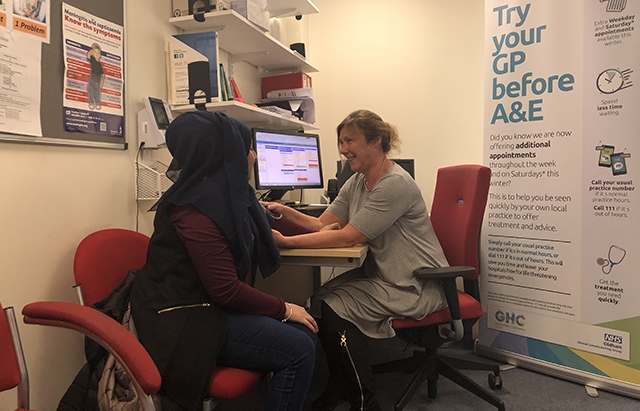 Clinical Practitioner Jackie Casey, from the Alexandra Group Medical Practice, taking a patient's blood pressure
A group of doctors' surgeries in Oldham are offering extra appointments to encourage people to visit them rather than hospital A&E departments.
This will save patients' time and leave hospitals free for life-threatening emergencies.
Winter is a very busy time for NHS hospitals but increasing numbers of both adults and children visit A&E departments when they do not need to.
Now additional appointments are being offered by a group of nine surgeries covering Oldham town centre, Glodwick, Hollinwood and Fitton Hill.
The extra appointments will run on weekdays, evenings and Saturdays at some selected practices, during February, March and early April.
Unless their illness puts their life at risk, patients are asked to call their local surgery in normal hours or '111' to get a quick out-of-hours appointment with a local GP or visit a pharmacist rather than go to hospital.
The surgeries offering additional urgent appointments are Greenbank Medical Practice, Sun Valley Medical Practice, Jarvis Medical Practice, Alexandra Group Medical Practice, Hopwood House Medical Practice in the Glodwick area. The others are Lindley Medical Practice and John Street Medical Practice in Oldham town centre; Hilltop Surgery in Fitton Hill and Hollinwood Medical Practice.
Known as a 'GP cluster', the clinics use the joint name of Growing Healthy Communities Oldham Ltd.
Spokesperson Dr. Zuber Ahmed for Growing Healthy Communities Oldham said: "People seem to think they will be seen more quickly at a hospital A&E department.
"But that's not always the case. Patients are likely to be seen quickly at their local surgery and will still receive the same high standard of care.
"We've looked at the demands within our group of surgeries and the impact on hospitals. We are now giving people more options to help ease the pressures on other parts of the NHS.
"So we are doing our bit but we're also asking the public to play their part too by avoiding going to A&E when they don't need to."
The Growing Healthy Communities Oldham surgeries can only deal with patients registered with them. Other GP practices in the borough are deciding their own local priorities. Patients registered with other practices who want urgent advice should contact their local GP or pharmacy first, or call '111' during out-of-hours periods.
Local surgery booking records suggest more patients are requesting 'urgent' appointments now compared to previous decades.
People appear to be more worried about common colds, flu and viruses than past generations and less confident in their own judgements and ways to recover – including simply resting.
In fact, there is no need for medical treatment for people with flu who are normally fit and healthy. Antibiotics are of no use against viral illnesses. Most people should simply rest and recover a few days.
So patients are asked to follow the key advice of trying their GP before A&E unless it is a life threatening emergency.