Olympic star Nicola urges women and girls to chase their dreams
Date published: 08 March 2018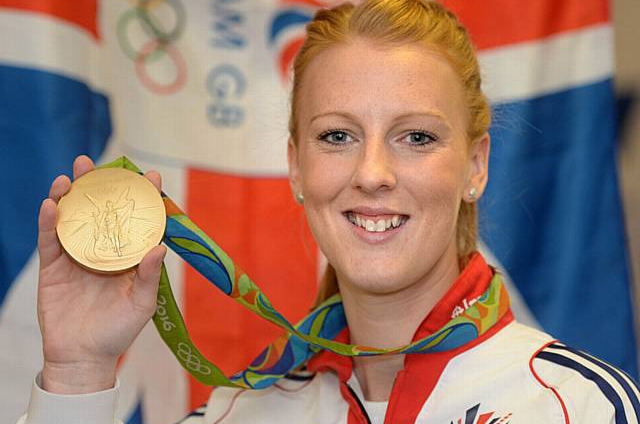 Olympic gold medal-winning hockey star Nicola White
The message from Oldham's Olympic gold medal-winning hockey star Nicola White is quite clear on this 2018 International Women's Day – 'Dare to Dream!'.
Former Hulme School pupil Nicola (30) had already been lucky enough to make the grade as a hockey player, starring as a forward for Leicester and more recently Holcombe in the sport's elite division, the Investec Women's Hockey League Premier Division.
Her life changed for good, however, in the summer of 2016 when Nicola was part of the Great Britain team which won Olympic gold in Rio de Janeiro, beating the Netherlands 2-0 in a dramatic final on a penalty shoot-out after the match had ended 3-3.
Nicola also won bronze at London 2012 and has also medalled at numerous other international tournaments over the last decade.
Since her Rio heroics, Nicola has seen women's sport steadily grow in popularity, and she certainly does her bit, often calling in on schools and local clubs to offer motivational advice and oversee exciting training sessions.
Speaking in her latest blog, on her own website, Nicola offered an insight into how strongly she feels about girls and women going on to achieve exactly what they set out to do.
Nicola said: "I encourage them to believe that they can make it happen, but also question why they don't think they can, to learn what young girls believe are barriers to career success.
"The earlier they believe in the possibilities, the more desire and commitment they may have towards finding who or what they want to be when they are older, and I love that moment where youngsters suddenly think of, what could be.
"I am passionate about making all women feel empowered, to use their voice and worth to stand proud and be who they want to be, but we all have a responsibility to shape the way young girls enter this changing world by engaging, encouraging and sharing our success and learnings with them.
"I will continue to enjoy the work I do in schools and clubs around the country and even though sometimes I may not see the impact of this work, I take pride in knowing that I am part of a bigger movement of women aspiring for equality worldwide.
"To all women and girls out there, dare to dream!"
Read Nicola's full blog entry on International Women's Day on www.nicolawhitehockey.com