Wintry conditions set to return by the weekend
Date published: 13 March 2018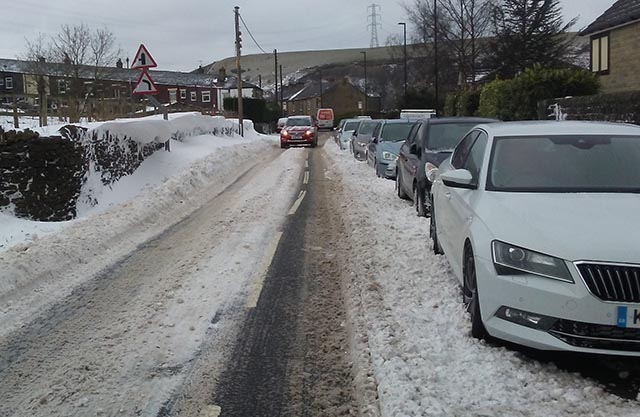 Forecasters say a build up of pressure over Scandinavia will bring a chilly blast of easterly winds to the region this weekend. Oldham was badly hit by the 'Best from the East' weather system the week before last, as our picture recalls
Some Oldhamers might want to brace themselves for the 'Beast from the East part two'.
Forecasters say a build up of pressure over Scandinavia will bring a chilly blast of easterly winds to Greater Manchester on Saturday.
Temperatures could plummet to below freezing overnight into Sunday, with the cold spell expected to last until at least Monday.
However, Met Office experts have acknowledged that it will be a 'poor sequel' to the original 'Beast from the East'.
No snow is expected in Greater Manchester, where it will be 'dry and cold'.
During the week temperatures will be mild, reaching highs of around 12C tomorrow (Wednesday).
It will be wet and windy tomorrow and Thursday.
The colder temperatures will reach the region on Saturday. It will be around 3C to 5C during the day.
Overnight it will become frosty and temperatures could plunge to as low as -3C, but in the chilly winds it will feel more like -4C.
Martin Bowles, meteorologist for the Met Office, said: "We are expecting some slightly colder temperatures coming through the weekend.
"We do expect on Saturday, Sunday and Monday to be a bit colder than this week.
"There will be temperatures of 4C to 5C during the day, at night time it will be -1 to -2C and -3 in the countryside.
"We are expecting it to colder, but at this stage we don't expect there to be much snow. It will mainly snow in the east of the country."
He added: "It will be dry and cold in Manchester, though it will be a very poor sequel to the Beast from the East."