Drivers warned about pavement parking
Date published: 16 March 2018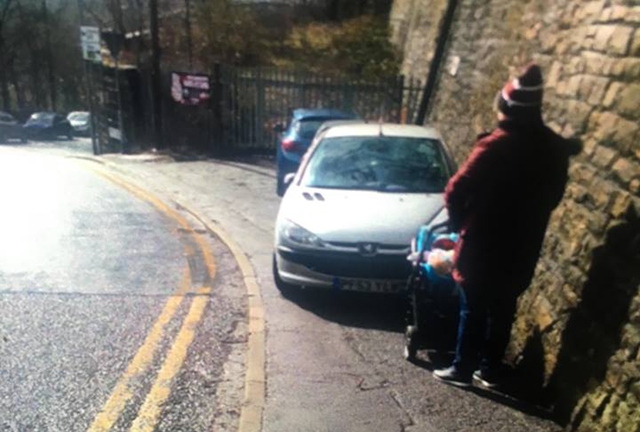 A post from the GMP Saddleworth and Lees Facebook page included a picture of a woman with a pram struggling to pass a parked car near Greenfield station
Greater Manchester Police have warned drivers their cars will be ticketed and removed if they block pavements to pram pushers and other pedestrians.
Officers in Oldham say those on foot are being forced into a busy road near Greenfield Station and put a warning on Facebook to remind drivers of the consequences.
The post, from GMP Saddleworth and Lees, said: "Vehicles are parking on the footpaths just below Greenfield Station on Shaw Hall Bank Road particularly at the point where the road bends as it becomes Chew Valley Road.
"This is causing pedestrians some of whom have prams with them to have to step into what is a very busy road.
"This must cease immediately and if we see vehicles parked in that location blocking the footpath again vehicles will be ticketed for unnecessary obstruction and then lifted so that pedestrians can pass by safely."
The move comes after similar problems in nearby Rochdale, where one mum chose a rather unusual way of letting a van driver know they had blocked her path - by scrawling a message on their vehicle in lipstick.
Vehicles parked on single or double yellow lines are a local authority matter and dealt with by individual councils.
While the law says parking on the pavement is not a crime - unless you're a lorry - blocking the pavement is against the law.
Sergeant Paul Lenarcic, from GMP's Traffic Unit, said: "When we receive reports of an obstruction a traffic PCSO is assigned to make an assessment of the road.
"If it is deemed obstructive a fixed penalty will be issued. Should it be causing issues such as excess traffic, then action will be taken to remove the vehicle if required.
"This will incur further costs for the vehicle owner."