More than 800 were injured in Arena attack
Date published: 16 May 2018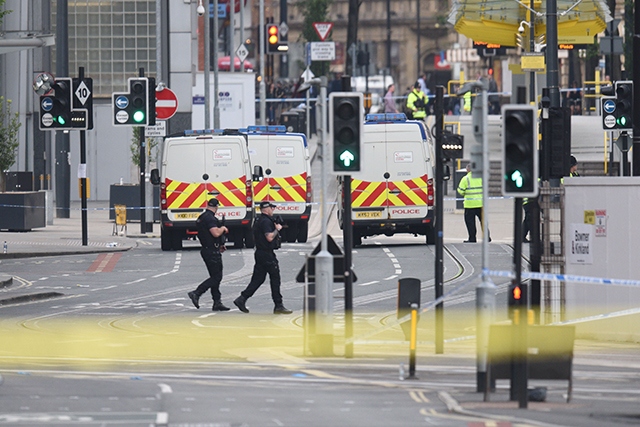 The aftermath of the suicide attack at the Manchester Arena on May 22 last year
A Greater Manchester Police update on their investigation into the Manchester Arena bombing almost a year ago has revealed that more than 800 people had now been confirmed as injured on that fateful night in the city centre.
It was shortly after American singer Ariana Grande had completed her sold-out concert at the Arena on Monday, May 22, 2017, when suicide bomber Salman Abedi blew himself up in the foyer, claiming the lives of 22 people, including two mothers from Royton, Lisa Lees and Alison Howe (pictured below).
Now officers still investigating the attack say he also injured more than 800, up sharply from a figure of 517, which was released in December 2017.
Among those injured were people suffering physical and deep psychological injuries, whose lives police say "have been altered forever."
Currently the Greater Manchester force have around 100 people working on the case full-time, with their work taking in hours of interviews with witnesses, sifting through thousands of hours of CCTV footage and piecing together evidence.
In a statement released by Assistant Chief Constable Russ Jackson today (Wednesday), he added more information about the work going on the try and talk to the brother of the bomber, who is believed to still be in custody in Libya.
"I want to be really clear that this is a murder investigation," Mr Jackson's statement read.

"We have applied for, and been granted, a warrant of arrest for the brother of Salman Abedi, Hashem Abedi.
"The warrant was issued by a Manchester Court to produce Hashem Abedi at Westminster Magistrates Court, which is standard procedure in terrorism and extradition cases.

"In addition, extradition has been applied for.

"It is because of this that it is really difficult to provide any further detail.
"Firstly we must respect the Libyan legal process and we are very grateful to them for considering our request.
"Secondly, it is vital that the court process is respected in this country and especially the right to a fair trial.
"It is because of this that we cannot comment on any specific detail of the case. When we can say more, we will of course do so.

"In the meantime, we will continue to gather evidence, searching for as much detail about what happened and evidence of anyone responsible whilst supporting the families, many of whom who are going through unimaginable pain."
A number of events are being held across the city on Tuesday, May 22, 2018, to mark one year since the attack.
As a mark of respect to those who lost their lives in the atrocity, bells will ring out from St Ann's Church, St Mary's Catholic Church and the Town Hall at exactly 10.31pm on May 22 - the time of the attack.
In the immediate aftermath of the Arena attack there was a spontaneous outpouring of grief, love and solidarity through the sea of tributes left in St Ann's Square (above).
Inspired by this incredible sight, the city council has organised the Trees of Hope trail to encourage people who want to leave and share tributes.
The trail will feature 28 beautiful Japanese maple trees - some of which will be nurtured with compost made from the floral tributes left by the public last year.
The trail will run from Victoria Station to St Ann's Square. Messages can be attached using specially-designed cardboard tags which will be handed out by volunteers between 8am and 8pm every day, and until 11pm on May 22 itself.
Prince William and the Prime Minister will attend the special service at Manchester Cathedral on the afternoon of May 22.
During the service there will be a national minute's silence at 2.30pm including across all government buildings.
The invitation-only event has been arranged for the families of those who lost their lives, first responders and civic leaders.
However, members of the public will be able to watch the hour-long service on a big screen in nearby Cathedral Gardens.
Meanwhile, competitors will fall silent for one minute ahead of the Great Manchester Run on Sunday as they pay tribute to those killed in the Arena attack.