UPDATED: Cat-A-Tonic announces July 31 closure plans
Reporter: Simon Smedley
Date published: 01 July 2018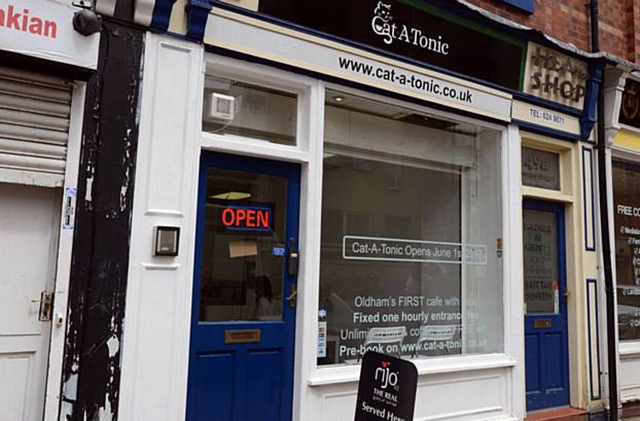 The Cat-A-Tonic cat cafe on Union Street in Oldham
Barely a year after opening its doors for the first time, Oldham town centre cat cafe Cat-A-Tonic has announced its closure date.
Based near Oldham Central Metrolink stop on Union Street, the cafe was initially billed as 'just the right tonic for those looking to enjoy a brew and a catch-up with their feline counterparts'.
However, Christine Rooney, Chief Executive Officer for Cat-A-Tonic Ltd and fellow Oldhamer, has revealed her plans to close the venture, and has aimed a huge swipe at Oldham Council in the process.
The cat cafe will officially close its doors for the final time on July 31.
She couldn't hide her frustration at the perceived lack of support from Oldham Council, though Cllr Abdul Jabbar, Deputy Council Leader and Cabinet Member for Finance and HR, has responded by outlining the local authority's stance.
In an initial email to customers, Christine stated: "Our café and similar small enterprises are the sort of businesses that would increase general trade by getting people to visit Oldham for something different.
"When I decided to make our first café in Oldham, I was led to believe that supporting startups to attract visitors to the town is a no brainer for our local authority, who want to regenerate and revitalise the area.
"However, Oldham Council (who have provided no help or support to Cat-A-Tonic whatsoever) prefers to hire expensive consultants to pursue grand plans and PR soundbites hinting at regeneration rather than address the realities of making town centre businesses viable today by promoting visitors to the town."
Cllr Jabbar has answered by pinpointing two major reasons why the Council dismissed Cat-A-Tonic's grant bid.
He said in a statement to the Chronicle: "It's always disappointing when a business closes, but there were very clear reasons why Cat-At-Tonic's grant application was declined.
"We're keen to support local firms and start-ups and get many grant requests like this.
"When considering these we have a duty to ensure that any applicant's business model is viable and sustainable.
"Although this specialist offer appears to be working in Edinburgh, Brighton and Manchester's Northern Quarter, it was felt Cat-a-Tonic's business case was not effectively demonstrated nor proven.

"Secondly, their premises was not in the Independent Quarter – the triangle between Yorkshire Street, Clegg Street and Union Street (East).
"This was and remains our highest priority area where we've already supported many IQ businesses – existing and new – creating 270 jobs to date, helping 40 new ventures and approving more than 100 grant applications.

"Amongst those are a number of successful café/restaurant businesses including Grill at Number 20, Parliament Square Café, Smoke Yard and others – and we will be revealing another exciting new restaurant business there next month."
Cat-A-Tonic offers customers free tea and coffee along with the experience of being surrounded by cats, which all came from Animal Rescue Oldham, in a relaxed environment for a fixed one-hour charge.
However, in the aforementioned email, distributed yesterday, Christine added: "I'd like to thank all the customers who have supported me over the past year.
"I write with heavy heart to inform you that our cat café in Oldham is likely to close later in the summer.
"We have some extremely friendly and wonderful cats, a great product backed up by quality culture and coffee for our patrons to enjoy, superb reviews from our customers and a four figure number of followers on social media.
"However, the regrettable absence of enough people visiting Oldham town centre, a figure declining year on year, means that whilst similar cafes are busy and viable in other towns, we are unable to make the business sustainable in the long term here in Oldham which in turn would create employment and work for local people."
Arrangements have already been made for all five cats based there to be re-homed.
If you want to see Cat-A-Tonic's group of cats one final time, there will be a limited number of slots for booking available online: at www.cat-a-tonic.co.uk
Email the cafe for more details at: christine.rooney@samsaroon.com