New cabinet member for health promises to address Oldham life expectancy gap
Date published: 23 May 2018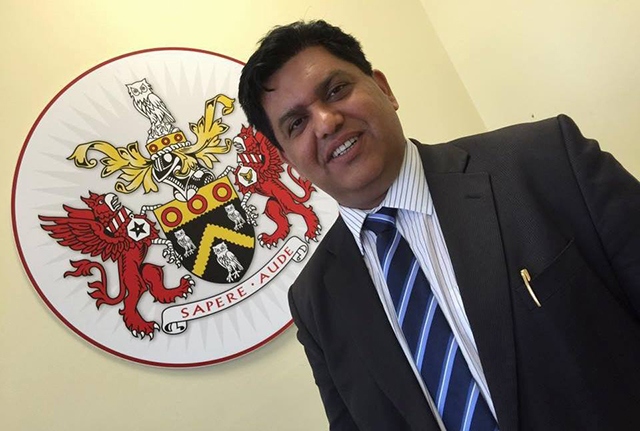 New Cabinet Member for Health and Social Care at Oldham Council, Dr Zahid Chauhan
GP Dr Zahid Chauhan has vowed to provide a listening ear to local residents after being appointed Cabinet Member for Health and Social Care at Oldham Council.
Dr Chauhan, a national campaigner behind drives to improve medical provision for the homeless and beat deadly superbugs in UK hospitals, will be in charge of key policy decisions on everything from mental health care to services for the disabled to sporting and leisure activities within the borough.
And with a track record of tackling health inequalities, his first goal will be to address an 11-year gap in life expectancy between those living in affluent and deprived areas of Oldham.
Dr Chauhan said: "Postcode should never determine the quality and longevity of life and we need to do much more to improve provision in poorer neighbourhoods and reduce the stresses, strains and influences that blight peoples' health there.
"While we have made huge improvements, health and social care in Oldham still lags behind national standards and there is much to be done across the political spectrum to improve this."
Heart disease, childhood obesity and alcohol and smoking related illnesses are among the primary healthcare problems Oldham faces, and Dr Chauhan believes they are intrinsically linked to social issues.
"I have seen a huge increase in the amount of patients whose concerns about joblessness and debt have manifested themselves into alcohol or food dependency, anxiety and depression," he said.
"And while I am determined to encourage healthier lifestyles in my role within the council, I will also be joining Labour in its national quest to oppose continued austerity and try and lift people out of the poverty that is genuinely making them ill."
As founder of the Homeless-Friendly programme, Dr Chauhan has cultivated a change in attitudes in Greater Manchester surgeries towards rough sleepers.
Encouraging them to treat all homeless people with dignity, he has even urged them to become information hubs, where everyone from street sleepers to sofa surfers can receive support on housing, training and addiction services.
In his role as GP and councillor for the Alexandra Ward, Dr Chauhan has acted as an advocate for vulnerable patients and led self-care aware campaigns on issues such as diabetes and the importance of good diet and exercise.
He has also been a local ambassador for national and international campaigns, including aiding charity Antibiotic Research UK (ANTRUK) in their bid to fund research into better antibiotics to stop killer infections.
Dr Chauhan added: "If we want Oldham to be a thriving borough, then it must also be a healthy borough, where everything from the benefits of breastfeeding for babies to proper care for older residents is supported and those less fortunate helped.
"I believe I can bring my medical and political expertise to this post but rest assured, I will also provide a listening ear to all residents and make sure my door is always open and their health needs addressed."