Join in the Breastfeeding Awareness tea party
Date published: 21 June 2018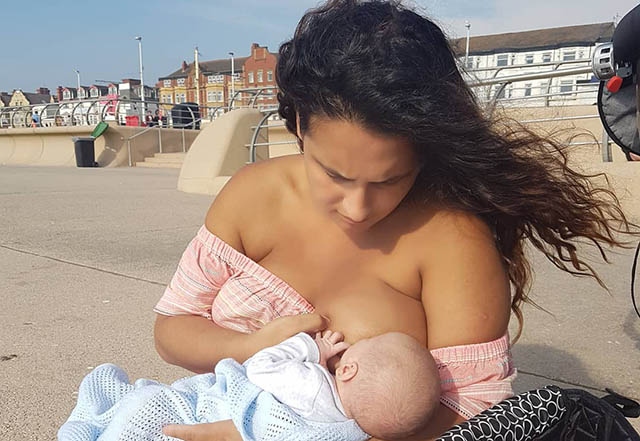 Oldham Mum Alicia Ramsbottom with baby Theodore
Midwives at the Royal Oldham Hospital will be celebrating Breastfeeding Awareness Week (June 20-26) with information stands and a special tea party for mums and mum to be.
The maternity unit will host information stalls in antenatal clinics tomorrow (Friday, 1-3pm) and will offer mums and mums-to-be a whole range of information, advice and support, should they decide they would like to breastfeed their baby.
Mums will also be invited to join other mums and midwives on the neonatal ward at the hospital for a special tea party to celebrate the benefits of breastfeeding.
The benefits of breastfeeding have been well evidenced and midwives are keen to highlight the benefits to both mum and baby this Breastfeeding Awareness Week:
Breast fed babies are:
• Five times less likely to present with gastrointestinal infections (tummy bugs) or urinary tract infections.
• Two times less likely to have a chest infection.
• Two times less likely to have an allergy if they are from an allergic family. This includes eczema, asthma or diabetes.
• If the babies are premature they are 20-fold less likely to get neonatal necrotising enterocolitis, a bowel condition, which can be life threatening.
• Have improved cognitive development.
• And are less likely to be obese in childhood or later adult life.
Mothers who breastfeed:
• Have reduced risks of breast cancer, ovarian cancer and osteoporosis later in life.
• Regain their pre-pregnancy weight more quickly and their womb contracts to its pre-pregnant state more quickly, reducing their likelihood of postpartum bleeding or womb infections.
One Oldham mum who has successfully started and continued to breastfeed her baby is Alicia Ramsbottom, who gave birth to baby Theodore. Alicia gives her account of her breastfeeding experience.
She said: "Breastfeeding was never something that I thought too much about. For me, it was something that came naturally following birth.
"I immediately put my baby to breast and did so every day for a further two years, as recommended by the World Health Organisation.
"Breastfeeding has created a beautiful bond between me and my children, which has provided them with comfort and amazing health benefits, such as antibodies for the immune system, reduced risk of child cancers and vital vitamins and minerals.
"Breastfeeding has made day-to-day living as a busy family easier, as I never have to worry about packing bottles for trips out."
The tea party on the neonatal ward will take place between 2-4pm.
There is no need to book a place, just simply turn up and join in the fun.
The invite is open for everyone including all present and past breastfeeding mums. A raffle will take place and there will be lots of lovely mum and baby prizes to be won.
Tickets for the raffle are available from the infant feeding team on the postnatal ward and cost 50 pence per ticket.
For more information on breastfeeding advice and support available, please contact Angela Lee, Infant Feeding Midwife and Michele Ogden, Lead Infant Feeding Midwife on the Postnatal Unit or Caroline Looby, Neonatal Practice Educator in the Neonatal Unit on 0161 627 8752.