Oldham Boxer Aiming to Hit The Heights
Reporter: Michael Coleman
Date published: 14 January 2019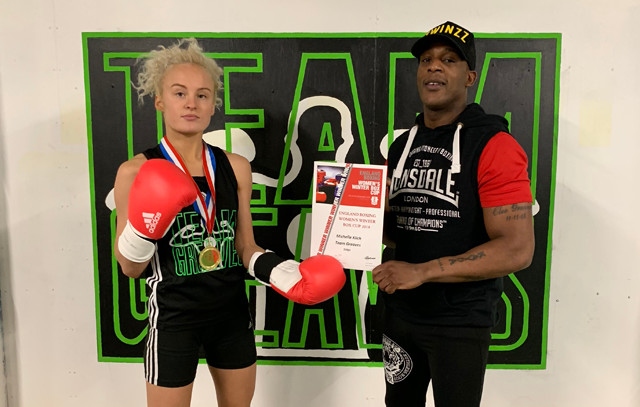 Oldham Boxer, Michelle Klich
Oldham's next great boxing hope remains on course for stardom following her latest medal-winning performance.
Michelle Klich is aiming for a busy 2019 after winning gold at the Winter Box Cup in Urmston, Manchester last month.
The 20-year-old boxed just once – because of a bye – but emerged victorious from the 51kg female bout.
But Klich, who still studies at Hopwood Hall College, doesn't rank it on the same level as some of her other achievements.
She said: "I was really nervous, but I won gold.
"But the ones I'm most proud of are the Three-Nations and the Eindhoven Cup.
"I was the first ever to win gold at the Eindhoven Cup in 2016," she continued.
Last month's tournament marked her first bout under new trainer Marvin Greaves, who runs the Hollinwood-based Team Greaves Gym.
And the young prospect's new coach couldn't be happier with her progression.
"I've known about Michelle for a long time, I've seen her fight before a few times," Greaves declared.
"When she first came into the gym, she was taking everything on board.
"She's ten times a better boxer now.
"She can go very far," he added.
Klich has made it clear that she wants to keep shining bright in the hope of qualifying for the Olympic Games.
"I would love to go to the Olympics. I don't think I'll get onto 2020 but I'll be trying my hardest to get onto the next one," she said.
Her next bout comes on Team Greaves Gym's March 16 home-show – unless she can get back in the ring before.
This year should also see her enter the European Elite Championships for the first time.
Mum Britta said: "I couldn't be any prouder, it's a hard sport."
Despite making it look easy in the ring, Klich is experiencing some difficulty with the lack of sponsorship to help her sporting costs.
She has appealed to local companies and businesses for sponsorship on either a fight-by-fight or permanent basis.
If you wish to sponsor one of Oldham's homegrown talents, please call Marvin on 07387190177.