Could you help Gallery Oldham find this missing piece of history?
Date published: 01 August 2019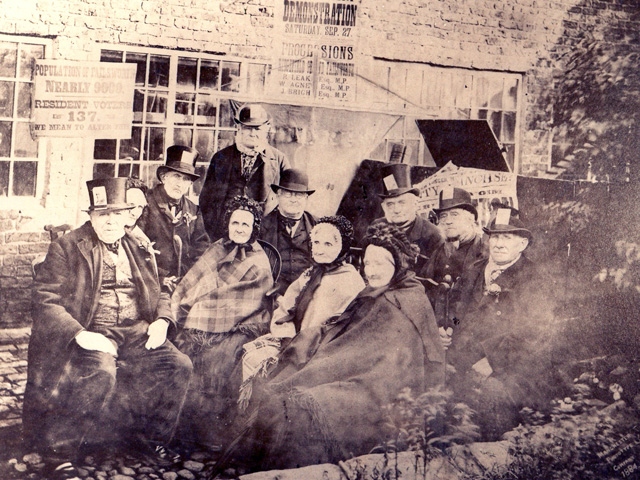 The 200th anniversary of the Peterloo massacre is later this month
A piece of local history could be lost in Oldham - and people in our region are being asked to check attics, cupboards and sheds to see if they can find it.
Gallery Oldham wants to mark the 200th anniversary of the Peterloo massacre by tracking down the banner carried by people from Chadderton as they marched to Manchester.
It's made of green and white silk and was last known to be at the school in Healds Green in the 1920s.
It's about 3.5m long by 2.5m wide and it bore the words "Chadderton Political Union, United we stand, Divided we fall, No Corn Laws, Universal Suffrage, Vote by Ballot and Labour the Source of wealth".
On the reverse side was a pair of clasped hands.
Each group that marched to St Peter's Field in Manchester in 1819 took a banner, with only one other known to have survived.
Two centuries ago, people from all over Greater Manchester and Lancashire marched into Manchester to protest for the right to vote.
Over 60,000 men, women and children walked to St. Peter's Field to listen to Henry Hunt speak about parliamentary reform.
Each group brought with them a banner, lovingly handmade from any spare cloth or silk that they could find.
The banners were painted with slogans and would have made an eye-catching display as they were held up high and accompanied by bands of music.
These banners were a symbol of pride amongst the different neighbouring towns and villages.
They also helped people to know who to follow after the meeting to prevent getting lost.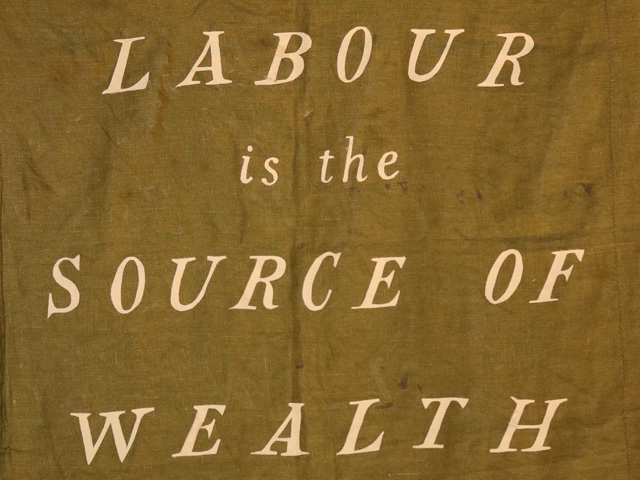 The banners acted like colourful umbrellas often used by tour guides today.
Currently there is only one known surviving banner from the Peterloo Massacre, which is on display at Touchstones Rochdale.
Many banners were destroyed by the authorities during the Massacre as they were seen as symbols of protest.
Accounts tell of the soldiers targeting the people carrying banners shouting, "Have at their flags!" as banners were viewed as trophies by the cavalry.
But, in his 1921 book 'Three Accounts of Peterloo', Francis Bruton wrote that there was another surviving banner - one from Chadderton.
This banner had been displayed in the old school at Healds Green for many years, but its owner then moved to Blackpool and its whereabouts became unknown.
As part of the Peterloo Bicentenary, Gallery Oldham want to track this banner down.
You might have a relative who moved to Blackpool in the early 1920s or you might have family ties to the Peterloo massacre - and you might be able to help them find the missing banner.
Sean Baggaley, Senior Curator at Gallery Oldham, said: "The banner may be nothing much to look at after 200 years. It might be faded, rolled up and perhaps even torn and moth eaten. But it has irreplaceable historic importance.
"To find this banner would be absolutely amazing and we really hope to track down its whereabouts."
Oldham Council Leader, Sean Fielding, said: "This banner symbolises the bravery of local people who protested for democracy 200 years ago.
"The banner seems to have vanished from history, but I would urge people in Oldham, Blackpool and across the North West to get searching in the hope that we can locate this fascinating piece of history."