Clean Air Zone Financial Support Scheme goes live in Oldham in less than a week
Date published: 24 November 2021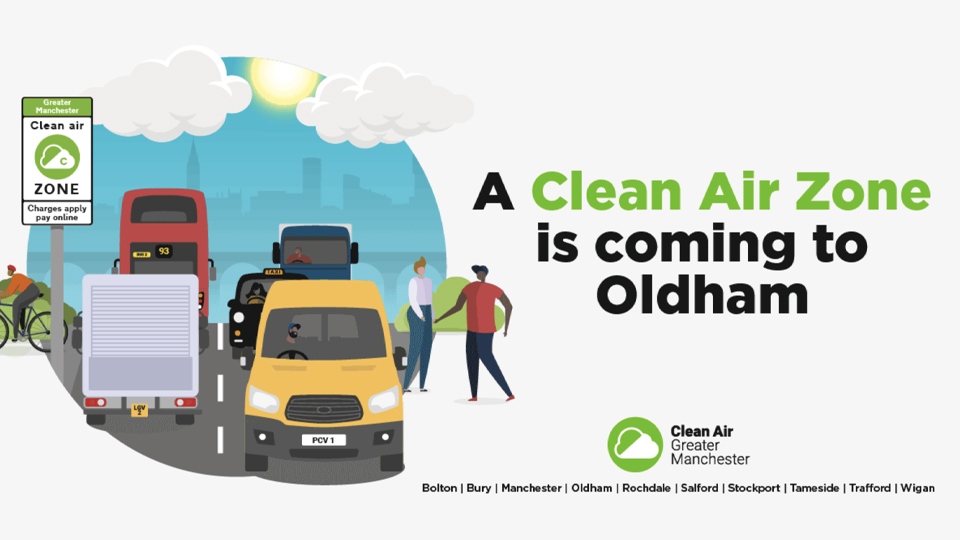 Vehicle owners can use the online checker to see if they are affected
Oldham Council is calling on the borough's HGV owners to get ready for the launch of the HGV Clean Air Zone Financial Support Scheme which launches next Tuesday (30 November).
Support is being provided for vehicle financing before the zone comes into effect on 30 May 2022.
Vehicle owners can answer a series of simple questions at cleanairgm.com/prepare to find out whether they will need to pay a charge to drive in the Clean Air Zone, if they might be eligible for an exemption or funding support, and further vehicle-specific information regarding their options and timescales.
Funding for Greater Manchester-licensed private hire vehicles (PHVs) and hackney carriages, coaches, minibuses and vans (LGVs) will launch at the end of January 2022.
Vehicle owners will receive letters from early 2022 to notify them of exemptions and funding support available. As well as this, at the end of January next year, those eligible for an exemption would be able to make an application.
Oldham Council and the other nine Greater Manchester local authorities are under direction from government to meet nitrogen dioxide legal limits on local roads by 2024 at the latest.
The GM Clean Air Zone does not include private cars, motorbikes and mopeds.
Councillor Abdul Jabbar, Deputy Leader of Oldham Council and Cabinet Member for Finance and Low Carbon, said: "Air pollution is the biggest environmental public health issue facing our borough and the city-region with many roads breaching legal limits.
"We're committed to tackling it and the Greater Manchester Clean Air Zone will play a key role.
"The zone's due to launch on 30 May 2022 but there will be some temporary local exemptions until 1 June 2023 to give some vehicle owner more time to upgrade their vehicle.
"More than £120m in funding has been made available across Greater Manchester to support and help people, businesses and organisations upgrade to cleaner, complaint vehicles and not have to pay a daily charge to travel in the zone.
"Don't miss out - I'd urge vehicle owners in Oldham to use the online checker to see if they are affected and find out more about their options. We are encouraging people to apply for funding as early as possible to be in with the best chance of success."
Financial Support Scheme applications open on 30 November for owners of Greater Manchester-registered HGVs, to give them the maximum amount of time to apply, since they are included in the Zone from its launch.
The first round of funding will aim to support Greater Manchester's smallest businesses, sole traders and the voluntary sector owning non-compliant vehicles. Financial support will be available as a lump sum grant, contribution towards vehicle financing, or a combination of the two.
Vehicle owners can use the online checker to see if they are affected and if they might be eligible for an exemption or funding support here.