Family are not really favourites
Reporter: Paul Genty
Date published: 31 August 2017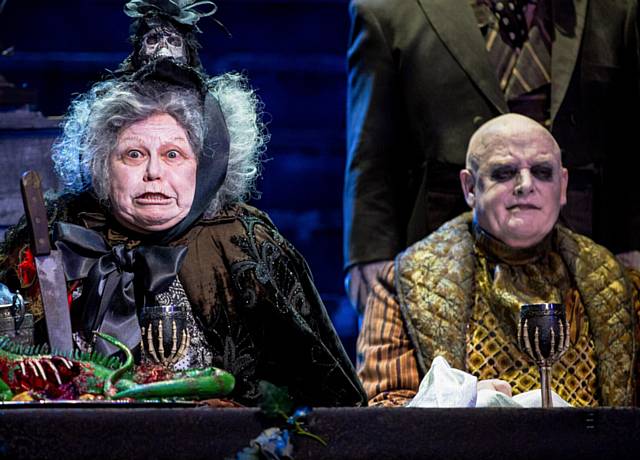 Photo: Matt Martin
GRUESOME TWOSOME . . Valda Aviks as Grandma Addams and Les Dennis as Uncle Fester.
THE ADDAMS FAMILY

The Lowry, to September 9

DID I love the Addams family on TV in the Sixties?

Yes I did, but I was about nine and remember that the show, based on Charles Addams' New Yorker magazine cartoons, was full of great characters but mundane stories - partly because they made 64 half-hours in two years.

What drew me then was the extraordinary John Astin as Gomez, the beautiful Carolyn Jones as Morticia and the gargoyles that were Uncle Fester and Lurch.

What draws me likewise to this musical version is the portrayals of those same characters: Cameron Blakely is a marvellously spirited Gomez - not as mad-looking as Astin, but possessed of a silly energy and the best lines of the night. Samantha Womack is great as the deadpan Morticia, for whom "Death is Just Around the Corner" - as one of her cheerier songs puts it.

And Les Dennis is a terrific choice as Fester, complete with bald head, trademark coat and complete lack of a cogent mind, while Lurch is heavy on his big-booted feet in the form of Dickon Gough, whose tread makes the house shake and whose voice can probably be heard by whales off Alaska.

The show is marked down, though, for failing to exploit one of the family's greatest creations, the disembodied arm "Thing", here barely seen.

Once again these brilliant character creations are stuck in a musical plot aimed apparently at the "Frozen" generation, with a fantastic set, lighting and genre musical score of appeal to romantics everywhere. But this is accompanied by a lame plot - surprisingly by "Jersey Boys" writers Marshall Brickman and Rick Elice - born of eldest child Wednesday's desire to marry a normal guy.

Wednesday - musicals star Carrie Hope Fletcher - has some big songs to sing but not much else to do. Her little brother Pugsley (Grant McIntyre), is fun but a side character and the beau and his parents - Oliver Ormson, with Charlotte Page and Dale Ripley as mum and dad, are only there to reveal the weirdness of the Addams's normality.

The show starts strongly, but after the interval a couple of good early songs give way to more songs and less plot and comedy, which isn't the Addams family I wanted to reacquaint myself with.