Happy birthday Oldham Hour!
Date published: 30 April 2018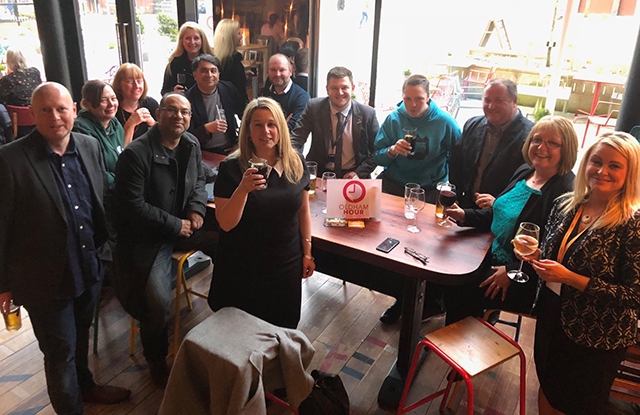 Enjoy a catch up with other Oldham Hour followers
Local businesses have paid tribute to Twitter marketing initiative Oldham Hour as it celebrated its fourth birthday.
Oldham Hour brings business owners, charities, event organisers, sport clubs and anybody associated with the town together from the comfort of their favourite chair each Monday evening via the social media platform Twitter.
Oldham Hour was started in April, 2014, by a handful of local business owners,
Users gather in one electronic meeting place every Monday between 9pm-10pm so they can talk to each other, ask for help and share news of services and events they're involved in.
The hashtag #OldhamHour can be used anytime, however.
Users can search this hashtag to interact with others and check local news without having to trawl the Twitter timeline.
The account has over 6,500 followers and registered over 130,000 impressions last month.
Oldham Hour has now started an initiative to bring Oldhamers to meet up regularly after work on the evening of second Friday of each month to get together for a relaxing chat and catch up.
Oldham has a huge amount of small business, charities and clubs who do not have the presence around the town in part as they do not have the budget to have development people in the organisations who spend a lot of time attending the busy networking events held on a regular basis.
Therefore the chance to meet up has proved a success in the first couple of events that have been held at Molino Lounge in the Old Town Hall development.
The events have been attended by local solicitors, schools, designers, bar owners, sport clubs, estate agents, IT providers, leisure providers, council representatives, charities, media, promoters of Oldham, and many others who provide a great mix of the Oldham community.
Lee Hollinworth, from Whittaker Design, original member and host of Oldham Hour, describes how OldhamHour works.
He said: "Many people interact each week under the ethos of 'Get Oldham Talking'.
"There's quite a lot of banter, but in the main it's about sharing information about events and business opportunities in the Oldham area.
"As you would expect it's a friendly meeting place for businesses, event organisers and the people of Oldham.
"Many participants have gained good connections and are now working together or refer work to each other, or have simply gained new clients."
Jean Hurls, from Oldham Street Angels, said: "Linking into Oldham Hour has transformed our organisation.
"We've received so much support/gifts/volunteers we feel humbled and proud to be part of the community."
Chris Stansfield, from Broken Pencil, added: "Oldham Hour is like networking without thinking about it, chatting with friends rather than stuffy business meetings, and best of all, it works."
Linda Lewis, from Linda Lewis Kitchens, said: "Oldham Hour has been great for LLK.
"Most people don't know of the services we provide, but Oldham Hour has given us a platform to engage with audiences outside of the catering and hospitality sector."
Muz Khan, from HCMK, said: "Oldham Hour is bringing together our business community, building relationships across communities, cultures and it makes business sense in a social environment."
For more information on how you can join the Oldham Hour group and help your business, charity, club, or anything Oldham grow, then simply go to www.oldhamhour.co.uk