Designing a career with Fineline
Date published: 30 April 2018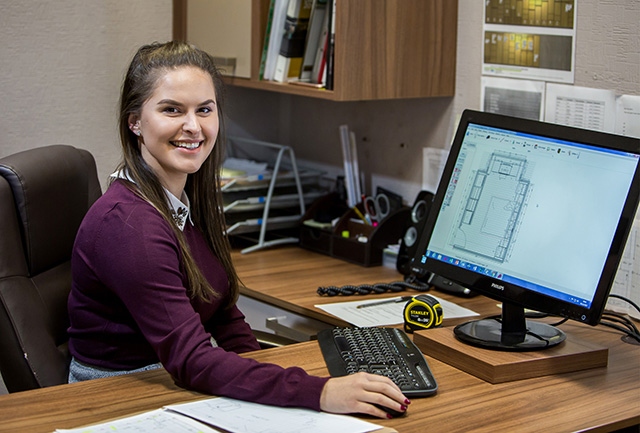 Designer Mica Wood at her desk
A young designer is building her career with Oldham-based award-winning furniture manufacturer and retailer Fineline Interiors – and recently visited a German oven manufacturer as part of her training.
Mica Wood, aged 25, joined Fineline just over three years ago from university and first worked in marketing activities.
Now she is training as a bedroom and kitchen designer, and recently visited the headquarters of oven and kitchen appliances manufacturer NEFF in Germany.
Mica grew up in Chadderton, and attended South Chadderton High School.
She then studied a construction and built environment course at Oldham College while working for an online retailer in the evenings.
She later studied animation at Manchester Metropolitan University and website and app design at the University of Salford, gaining a first-class honours degree, along with gaining work experience with a Manchester design agency.
Mica joined Fineline in late 2014 and her initial role included marketing and website activities.
Now she is focusing on bedroom and kitchen design work with head of design Rebecca Farrell.
Mica said: "I work on the full design process. This include measuring rooms for new or replacement furniture, using CAD software to design technical drawings and 3-D images for customers, then presenting these to customers and dealing with design details such a colours, handles and accessories.
"I work closely with Rebecca who is training me on all the different aspects of design. She is really skilled and I learn a lot from her."
Mica added: "I've always been interested in interior design, furniture and architecture.
"When I was young, I often used the 'painting' software on my home computer to produce images of rooms with furniture."
Mica recently took part in a three-day visit the HQ and factory of oven and kitchen appliances manufacturer NEFF in Bretten, in the Baden-Württemberg region of southern Germany.
She was part of a group of kitchen and design industry representatives who attended events including talks on manufacturing, kitchen technology and food trends.
Encouraging other young women and girls to explore design, furniture and architecture careers, Mica said: "Many of my school friends went into travel and tourism and I was the only girl on my construction course at college. But I never let that worry me.
"I made friends with all the other students and was glad I made the choices that interested me.
"Traditionally design, furniture and architecture has been fairly male-dominated but things are changing fast.
"There are three women and one man in Fineline's design department.
"I'd encourage girls and women to explore all options including design, building, plumbing - or whatever they're interested in.
"It might feel daunting at first, but people will respond really well to your choices."
Fineline managing director Mike Jackson added: "Mica was very creative in her marketing work and now she's stepped into design.
"Fineline is a big believer in staff training and career development.
"Mica has designed some bedrooms and recently started work on kitchens. She's doing really well and applying her creativity to a host of fascinating new projects."
In 2017, Fineline Interiors was named NEFF Master Partner of the Year at a national awards ceremony in London for its contribution to the NEFF brand's success in the UK.
A number of Fineline staff have attended NEFF training courses and taken innovative steps in using its appliances.