Drama company is playing it fair
Date published: 12 June 2018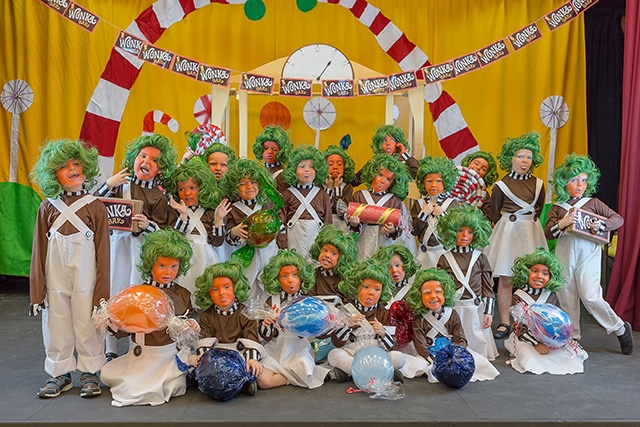 The children at Wild Things Drama's recent production of Charlie and the Chocolate Factory
Wild Things Drama has achieved Fair Tax Mark certification, after demonstrating their commitment to paying their fair share of corporation tax and reporting on their practices transparently.
Wild Things Drama was established in 2010 to teach drama, singing and musical theatre dance to children and young people aged between three and 18.
The company runs drama schools in Oldham, Saddleworth and central Manchester, and employs 12 staff across Greater Manchester.
Wild Things Drama director Nancy Monaghan said: "We are proud to contribute to the infrastructure and well-being of the communities we serve in Oldham, Saddleworth and central Manchester.
"Corporation Tax is often presented as a burden, but it shouldn't be.
"Not when considered against the huge array of public services it helps fund - from health and education, through to roads, transport and policing.
"Like many other businesses, we need healthy and well-educated employees to work with our young people, and good transport to enable them to reach us.
"Paying our dues fairly is the least we should be doing, and we see the Fair Tax Mark certification as going hand-in-hand with our commitment to support the real Living Wage."
Richard Livings, Fair Tax Mark Programme Director, added: "We are delighted to welcome Wild Things Drama to the Fair Tax Mark, especially during the UK's first ever Fair Tax Fortnight.
"Corporation Tax is a vital source of revenue for public services, both in the UK and developing world.
"We need to identify and celebrate all those businesses who recognise this and engage in responsible tax planning.
"It is estimated that €600bn of corporate profits are annually shifted to tax havens, with corporate tax revenue losses globally of €200bn per year - which equates to approximately £7bn of missing revenues in the UK."
Consumers looking to support businesses committed to paying their fair share of tax can find the more than 6,500 shops and offices of Fair Tax Mark accredited organisations at www.fairtaxmark.net/map.
The Fair Tax Mark originated in Manchester in February, 2014, and the city region has become a hub of good practice.
Certified businesses include national retailers such as Timpson Group and the Co-op, as well local favourites such as Unicorn Grocery, The Eighth Day and Ethical Consumer.