Football: Heyside FC looking for coaches and players
Date published: 14 November 2017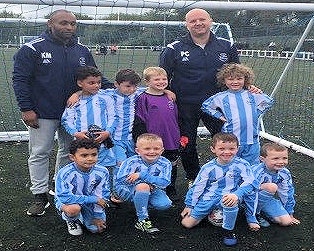 Heyside Dragons (under sevens)
Heyside FC is looking for coaches and players, boys and girls, to join the well-established family club.
Heyside FC has multiple teams for all age groups from under sevens to open age as well as a successful and popular academy for four to six-year olds mixed.
Teams also that cater for people with a wide range of disabilities and were shortlisted for Disability Team of the Year at the FA Grassroots Awards on Friday 10 November.
Paul Cole, Heyside FC said: "This season we have four under sevens teams that have started from our academy.
"We are also looking for sponsorship for the club as a whole and all our individual teams.
"If you are interested please contact us and help support our local children.
"We also hold regular fundraising and social events for the club."
For more information, contact:
Founded by the late Brian Bakes in 1975 who identified a need for a boys team in the local area and Heyside Juniors was born, completing their first full season with just one team. Through the support of many dedicated people volunteering their own time, the club has grown and developed to become Heyside FC.

As an FA Charter Standard Club affiliated by Manchester FA Heyside FC are now present in eight Leagues with over 50 teams including boys, girls, open age, ability counts and a major contributor to supporting the local community with grassroots and amateur football.

All managers and coaches are DBS(CRB) checked and hold an FA Level Certified Coaching Football which include safeguarding and first aid certification.